A little more than a month ago, Rob Neyer of ESPN wrote an article discussing walk rates and whether that kind of stuff comes with age. The article examined someone who's been a bit of a puzzle to solve this year, one Marco Scutaro. At his age 33 season, Scutaro is having a career year, hitting .298/.393/.434, constituting a current OPS+ of 120 and a .369 wOBA, all of those things basically saying he's having a pretty good year right now. But where is this good year coming from? Well, just a cursory glance at the slash line should tell you that's he's been playing well because of his excellent OBP. As we all know, a .393 OBP is really good, much better than that .434 SLG he's posting, so that's probably carrying the weight of his wOBA.
So Scutaro is doing a much better job at drawing walks this year. This is definitely true when one looks at the numbers; Scutaro is walking at a career high 14.2% clip. That's pretty impressive considering Scutaro posts a career walk rate just under 10%. I've examined a previous player who's posting a much higher walk rate than years past in Jeremy Hermida, and found that FanGraphs' plate discipline values were very handy to determine how sudden changes in walks and strikeouts for hitters could be seen.
But this is a Marlins blog, why am I talking about a Toronto Blue Jay? Well, there's been another player whose value has been questioned and whose plate discipline has supposedly jumped significantly since he began with the team. Of course, that would be Dan Uggla. Since his debut season in 2006, Uggla has steadily increased his walk rate:
2006: 7.3%
2007: 9.7%
2008: 12.7%
2009: 14.2%
This has significantly added to his value. His OBP spiked accordingly between 2007 and 2008, jumping from .326 off of a .081 isolated patience (measured as OBP – batting average) to .360 and an isolated patience of .100. This year, his isolated patience has gone up again, up 0.115. But what has caused this surge in walks and can this be shown as true developing plate patience, or something more ominous to his career?
As I mentioned, FanGraphs' plate discipline stats go a long way in determining how a player's plate approach has developed. For this study, I've taken a look at the plate discipline statistics of three players of interest, Marco Scutaro, Dan Uggla, and Adam Dunn. Dunn was chosen for this piece because he's had a long enough career with the same plate approach that we can confidently state the type of player he is qualitatively. Dunn has been basically characterized as one the best examples of Three True Outcomes hitters, players with a high percentage of hitting statistics that are completely defense-independent., ie. home runs, strikeouts, and walks. Dunn typically populates the leaderboards for all three statistics and derives much of his offensive value by his ability to get on base via walks (career walk rate of 17.2%) and hit home runs (career HR/FB% of 22.6%). He's also been derided by critics mostly for his constantly low batting average and high strikeout totals, the traditional marks of the patient, low-contact, high-power hitter. This sort of player profile seemed to me the type of player Uggla was beginning to become. Last year's season, Uggla's batting average remained at a reasonable .260, but his OBP increased and his slugging jumped above .500 for the first time in his career. This year, the profile fit even better, as Uggla's slash line of .218/.333/.428 is looking more and more like a poor man's Adam Dunn line.
In any study of plate discipline, a look at swing rates would be an appropriate place to start in order to determine a player's approach at the plate. The most logical reasoning for an increased rate in walks is a decrease in the amount of swings taken outside the strike zone, called O-Swing% here. Here's a look at each player's O-Swing% in the last three years including the current season, along with the league average values:
| | | | | |
| --- | --- | --- | --- | --- |
| | O-Swing% | | | |
| | | | | |
| | Adam Dunn | Dan Uggla | Marco Scutaro | League Average |
| | | | | |
| 2007 | 21.2% | 21.6% | 15.5% | 25.0% |
| 2008 | 17.2% | 21.0% | 15.4% | 25.4% |
| 2009 | 18.9% | 17.3% | 11.1% | 24.8% |
Each of these players is swinging at pitches outside the zone at a far lower rate than the league average of around 25%. Scutaro's drop in O-Swing% does tend to indicate a good reason for his larger number of walks. Uggla also has displayed a significant drop this season in pitches swung at outside the zone, and this would logically lead to an increase in walk percentage.
| | | | | |
| --- | --- | --- | --- | --- |
| | BB% | | | |
| | | | | |
| | Adam Dunn | Dan Uggla | Marco Scutaro | League Average |
| | | | | |
| 2007 | 16.2% | 9.7% | 9.4% | 8.7% |
| 2008 | 19.1% | 12.7% | 9.9% | 8.9% |
| 2009 | 19.0% | 14.2% | 14.9% | 9.4% |
Each player listed outperforms the league average by a decent toal this season, corresponding to their signifcantly lower O-Swing% compared to the league average. Here is a plot of O-Swing% vs. BB% for all major league players with over a 100 plate appearances this year: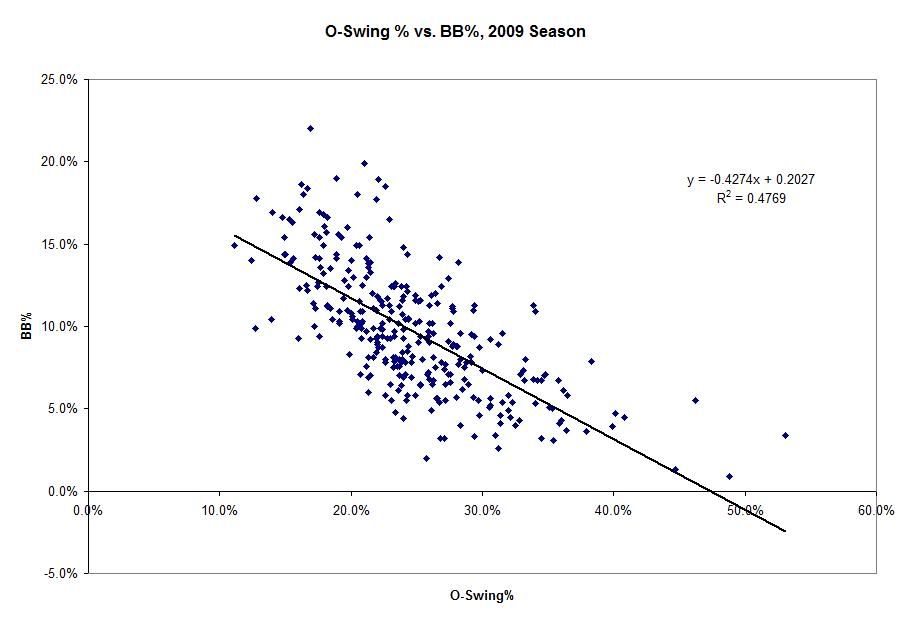 Pretty good correlation, even in the small sample size, with an R-squared value (square of the coefficient of correlation, for those who don't know) of 0,4769. So no surprises here; it's safe to say that BB% and O-Swing% are decently correlated. But that's just a part of having a good approach at the plate. Adam Dunn is categorized not necessarily as a player with a good eye for the strike zone, but rather as a player with a selective swing; that is, Dunn tends to swing less not just at balls, but all pitches in general. This logically follows, as a player who keeps his bat on his shoulders is more likely to be taking more strikes and balls and putting the ball into play less. But we'd expect a good player to Here's a table of each players Swing%, the total percentage of swings at pitches each player has taken, along with the league average.
| | | | | |
| --- | --- | --- | --- | --- |
| | Adam Dunn | Dan Uggla | Marco Scutaro | League Average |
| | | | | |
| 2007 | 43.4% | 45.0% | 41.2% | 45.9% |
| 2008 | 39.0% | 42.9% | 41.6% | 45.9% |
| 2009 | 37.6% | 40.3% | 33.3% | 44.8% |
This supposition about Dunn is most certainly true, as it is about the other two players. All three men recorded swing rates that were below league average the last few years, with the notable dip coming for Marco Scutaro between this year and last. The almost 8% dip in swing percentage must mean he is also swinging less at pitches inside the zone.
| | | | | |
| --- | --- | --- | --- | --- |
| | Z-Swing% | | | |
| | | | | |
| | Adam Dunn | Dan Uggla | Marco Scutaro | League Average |
| | | | | |
| 2007 | 68.1% | 68.5% | 63.9% | 66.6% |
| 2008 | 65.0% | 65.2% | 63.4% | 65.4% |
| 2009 | 61.2% | 65.3% | 55.0% | 65.7% |
This last of the Excel tables shows that indeed Scutaro is swinging at far less pitches inside the strike zone. This is the approach Dunn is often characterized with, which tends to say that perhaps Scutaro's newfound ability to hold his bat on his shoulders has mroe to do with this large increase in walks than any improvement in his strike zone recognition. Without looking at data about the types of strikes Scutaro is seeing, it's difficult to make a qualitative judgment on his approach and whether it is the most efficient towards run production, but it can't be said that his eye has improved.
However this data also points out that the other two players, Dunn and Uggla, are showing signs more indicative of an improved eye for the zone than Scutaro. Both Dunn and Uggla are swinging at strikes at a rate close to those of the league average, with Uggla pretty much swinging at the league average this year. For Dunn, this is typical of his entire career, showing that while he indeed takes more pitches in general than the average player, the majority of said pitches are out of the strike zone and should be taken for balls. Uggla's numbers tend to indicate the same sort of plate approach, one that is likely to produce more walks while ensuring that a normal amount of "good" and "bad" strikes are being hacked at, giving Uggla the best chance to make good contact on the ball. This approach has improved this year, and should help him become a better hitter.
So why is Uggla seemingly struggling this year? That's a topi for tomorrow's look on the differences between Uggla's numbers in this down year and in last year's strong campaign.