It was 2006, and I was a Marlins fan riff with excitement. The team was going through a crazy, unexpected run at playoff contention with a team full of minor leaguers and prospects. I enjoyed Hanley Ramirez. I enjoyed Dan Uggla. I enjoyed the amazing rookie pitching staff. I was excited to see what Jeremy Hermida could bring after hearing so much about his promise as a major leaguer. Of course I also enjoyed Miguel Cabrera and Dontrelle Willis, but they were always there; I could always count on them*.
*Of course, it was by that time that we had to stop trusting D-Train, but I didn't know that at the time. And yes, this was me ripping Joe Posnanski's asterisk aside thing. I promise I won't do this again.
Among the plethora of young talent, there were two players I did not think much of. One was Mike Jacobs, and it turns out years later that I was right; Mike Jacobs is a one-trick pony, and you can easily get a better first baseman than that guy. The other guy I didn't think much of was Josh Willingham. Hammer looks just like your average slugger, but unlike Mike Jacobs, he's actually good. Witness Willingham's wOBA and WAR from FanGraphs over his three seasons with the Marlins.
Year: wOBA/WAR
2006: .364/2.9
2007: .365/2.0
2008: .363/2.4
StatCorner's wOBA numbers paint an even better picture, especially for Willingham's rookie campaign. It gets worse when you see what type of hitter he is.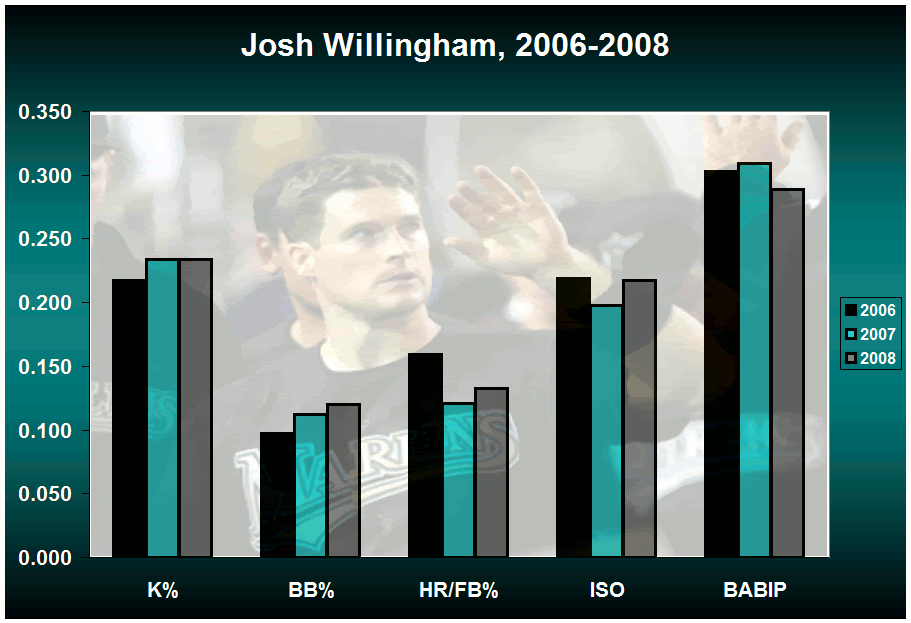 As you can see, Hammer was the patience power type, except that he has a higher contact rate than Uggla and is far more consistent in terms of BABIP due to a more balanced batted ball profile. At the end of last season, I was thinking that the team needed more players of Uggla's type, not knowing that Willingham was that player. Beyond that, you can see that his numbers were very consistent year to year. He experienced some slight but significant increases in walk rate during his first three seasons, while his K%, ISO, and HR/FB% remained fairly similar. His BABIP barely moved in those three seasons, perhaps because Hammer's batted ball profile remained fairly constant and his walks cut his dependency on singles for offensive value.
When the trade that sent Hammer to the Washington Nationals along with Scott Olsen for the package that included the infamous Emilio Bonifacio, I figured that the trade wasn't the worst thing in the world. Hammer was approaching 30 years of age and was generally considered a poor left fielder. Watching Willingham, however, I got the feeling that he was not as bad as his physique and lumbering manners made him appear; he actually got to balls that I did not expect and generally had decent routes to the ball. Also remember, this was prior to my knowledge of FanGraphs and well before UZR was updated weekly for our viewing pleasure, especially at such a convenient central area. Looking at his UZR/150 over his three seasons, you can see one large glitch.
2006: -0.4 runs/150
2007: -15.1 runs/150
2008: 2.1 runs/150
It seems like everyone on the Marlins gave up on defense in 2007, Hammer included. I ran a projection for Hammer's defense this season including UZR, TotalZone, and Fans Scouting Report data converted to runs, and got a value of -2.1 runs for the 97 defensive games he's played so far in left field. He's actually got a UZR of -0.7 runs, which I consider fairly close to my total. Even in his worst season, he wasn't as bad a fielder as I thought. The fans agreed with me, claiming he was a -10 fielder in left field even in his last season with the Marlins, but apparently the raw data on fielding balls begs to differ. Still, a more or less average outfielder is much better than Jeremy Hermida and Chris Coghlan have provided this season.
This year, Willingham has been worth 3 WAR for the Nationals so far this season. He's gotten a significant bump in ISO and HR/FB% over his Marlins days, but he's still walking and striking out at a very similar rate. In other words, he's the same power-patience hitter, just with more power. Hermida, on the nother hand, is injured and looks like he'll end this season posting yet another disappointing campaign at the plate and in the outfield. Right now, I'll bet the Marlins could use the added 2.8 WAR of Willingham over Hermida's terrible defense and average production.
And we dealt him for Bonifacio! Talk about adding insult to injury. This whole deal has been a travesty. Jake Smolinski had better pan out somehow.
Tags: Emilio Bonifacio Jeremy Hermida Josh Willingham Miami Marlins Washington Nationals