We have already taken a look at the catcher, first base, and second base, third base, and short stop, and left field positions. Here is a look at how the current team that you guys have voted on looks like:
So who is the Marlins World Series short stop? Drum roll please: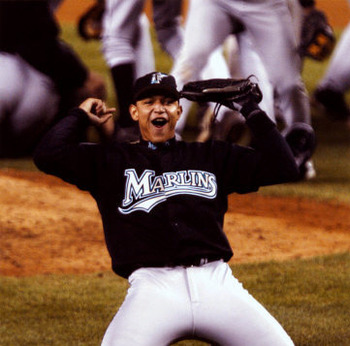 Here is a look at the results:
Who was the Marlins best World Series left fielder?
Miguel Cabrera (53%, 20 Votes)
Moises Alou (47%, 18 Votes)
Total Voters: 38
Loading ...
Miguel Cabrera barley edged
Moises Alou
. Both players had significant postseasons to propel the Marlins to a championship. I was mildly shocked that Alou did not garner more votes as his regular season was one of the best in Marlins history.
Tomorrow we will look at the Marlins World Series Center Fielders!
Tags: Derrick Lee Edgar Renteria Ivan Rodriguez Luis Castillo Miami Marlins Miguel Cabrera Mike Lowell Moises Alou