Miami Marlins To Be Blinded By The Night?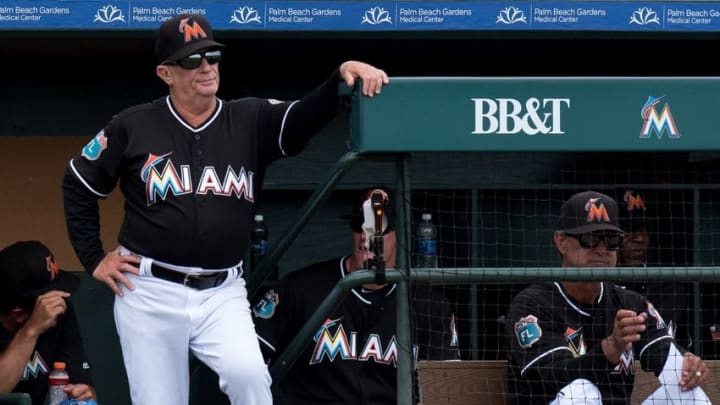 Dark sunglasses the closest Miami has come to night conditions so far this Spring. Mandatory Credit: Steve Mitchell-USA TODAY Sports /
Those dark shades you Perry Hill sporting in the above photo?  Yea, that's about the closest the Miami Marlins have come to simulating dark conditions so far this spring.  The club had two night games scheduled Easter weekend, only to see them both called on account of rain; that leaves only Friday night's exhibition against the Yankees to get some under-the-lights time in prior to Opening Day  So the question is, just what kind of impact will this have on the club heading into the 2016 season?
More from Marlins News
Don Mattingly and Giancarlo Stanton weighed in on this for the Miami Herald last week, citing the lack of night games in Spring Training as something that needs to have a serious look taken at by MLB officials given the propensity for the baseball games that actually count to….you know, be played at night.  That interview appeared in Friday morning's edition, and is if in haughty response from the universe, Friday night's game was rained out; so was Saturday's.  Those were 2/3 of the night games on the vernal docket.
Seriously, couldn't the teams have just jumped in a bus and driven to Marlins Park?
friday-funny-no-time-to-explain-15-feb-2013-1 /
Instead, Marlins hitters get to work through that adjustment in season .  When you throw in the fact that four games this spring were cancelled, and consider that starting third baseman Martin Prado's .214 mark is significantly better than the sub-Mendoza tallies of fellow starters Justin Bour and Christian Yelich, you have to wonder just bumpy a first couple weeks the team could be looking at.
However, there is one reason for hope, if you do choose to be particularly concerned about that lack of night game prep.  After that April 5th opener against the Tigers at Marlins Park, the team doesn't have another scheduled night start until April 11th against the Mets, as the next four games on the schedule all have start times prior to 5pm EST.  Will that weird Opening Week discrepancy ease the transition?  Or will a slew of twilight games just further meddle with Marlins hitters trying to get into the swing of things?
We'll just to tune in and see.  In the meantime, let us know what you think, be it in the comments, on Facebook, or on Twitter.