Miami Marlins and Muhammad Ali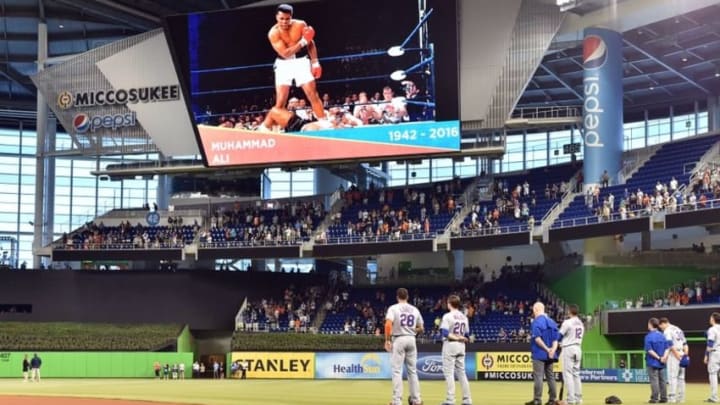 Jun 4, 2016; Miami, FL, USA; A moment of moment of silence to honor the Muhammad Ali prior to a game between the New York Mets and the Miami Marlins at Marlins Park. Mandatory Credit: Steve Mitchell-USA TODAY Sports /
Jun 4, 2016; Miami, FL, USA; A moment of moment of silence to honor the Muhammad Ali prior to a game between the New York Mets and the Miami Marlins at Marlins Park. Mandatory Credit: Steve Mitchell-USA TODAY Sports /
There's a lot the Miami Marlins do wrong.  They're presently suing a fan.  A week ago, they got into a hissing match with local news media over coverage.  Apparently, they spend less money on their roster than other teams.  We could go through it all, as there are far too many examples of self inflicted public relations wounds to choose from.  But their latest stumble, if indeed it could be called one, led me to do some reflecting on another somewhat criticized moment in club history, to the point that I've changed my mind completely about it.
More from Marlins News
Growing up, sports was pretty simple.  Well, there were a lot of rules I didn't understand, sure.  But there were absolutes, ground rules I could rely on.
The Jets always had to lose.  As did the Bills.  Really any team from New York.
Not to mention the Florida Gators.
Michael Jordan was good at basketball.
However, you always rooted for the underdog, so Michael Jordan had to lose.
Unless we were watching with Papa, in which case we secretly wanted the Jazz to win, but would act happy if Jordan did.
Horse racing was as much of a sport as NASCAR wasn't.
Oh, and Don Marino was the best ever, even though it'd be great if he didn't have a first name that was really similar to his coach's.
But if there was an athlete out there who I was even kinda-sorta allowed to acknowledge might be greater than Dan Marino (That Don/Dan thing really did confuse me for about two years.  I might have liked paste.), it was the larger-than-life legend who left us this weekend when Muhammad Ali passed away this past Friday in Scottsdale, Arizona.
For he was the Greatest.  And only partly because he said so.  Repeatedly, poetically, sometimes controversially, and typically factually.
See, even Giancarlo agrees.  And, if you want to see the link to the first public reporting of Ali's death, you don't even have to read about it in the provided link.  Just scroll up to the top of the page, and take a gander at that Marlins Park photograph.
Next: Marlins Connection