Are Miami Marlins Quitting Without "Quitting"?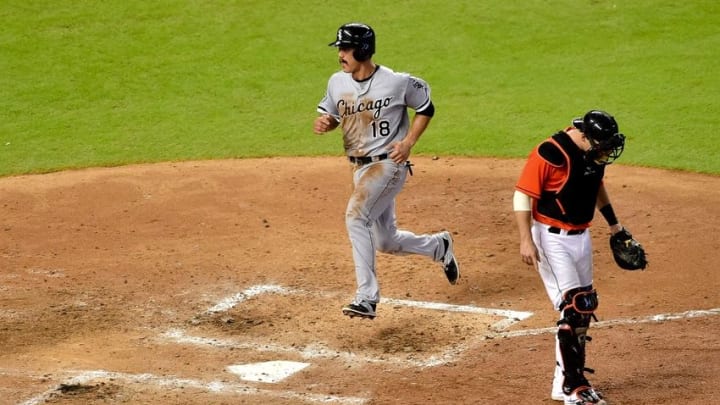 Aug 14, 2016; Miami, FL, USA; Chicago White Sox second baseman Tyler Saladino (18)scores a run past Miami Marlins catcher Jeff Mathis (6) during the sixth inning at Marlins Park. Mandatory Credit: Steve Mitchell-USA TODAY Sports /
Big week for the Miami Marlins.  With a slate of games against the lowly Cincinnati Reds and the fringe of Wild Card contention Pittsburgh Pirates, the direction the club will take for the duration will soon become clear. Can they show enough promise to believe they truly can weather this latest and greatest bout of adversity? Or do expectations need to be adjusted, with lesser goals like "winning record" and a "foundation for next year" moving to front burner?
In short, the question is "To quit or not to quit"?
Except, the question isn't remotely that black and white. Not these days, not in this market, not when all the conditions the Marlins operate under are factored in. For the Fish, subtle calculation is required when planning out the rest of the 2016 campaign, as they attempt to answer this somewhat more complex riddle:
Fight or "quit"?
More from Marlin Maniac
Fighting on? Still possible, for sure. But so far, that doesn't appear to be the course the club is choosing to chart. Not with affirmations that the club is happy to stand pat and continue on with what they have.  A brave statement, and a necessary one when it comes to clubhouse morale. It takes a village, after all, or at least twenty-five players to win a championship.  Between the loss of both Justin Bour and Stanton though, this team is in serious need of another power bat.  Pretending otherwise flirts with outright blindness.  You can make a pretty compelling argument that they might not necessarily believe that, but rather, just believe that they couldn't possibly make a trade that would matter at this point.
It's either that, or a negotiating tactic to try to lower the asking price; hard to get a good deal when everyone thinks you're desperate.
The tightrope that must be walked here by the front office is deciding whether or not this team really can still compete, while simultaneously not allowing themselves to be tagged the clubhouse and/or the South Florida community with throwing in the towel if that determination is not a rosy one.
Particularly, the audience here is Jose Fernandez.  This season has been  successful enough in terms of performance and trades that-to date- the narrative is a positive one. Players like the coaches, chemistry seems to be leaps and bounds ahead of where it was at any point of 2015.  Already, some quarters have reported that the forthcoming adjustment in television contract money in MLB might be bumping Fernandez remaining a Marlin from impossible to unlikely.  While money is part of that, his happiness with the organization is a huge factor as well.
Last year, happy he was not. This year, he's invested and on board. If Michael Hill and Friends can build on that enthusiasm for the rest of this year, as well as the next, then maybe a deal does actually happen.
Again, success this week will be huge.  If Sunday night finds the Marlins sitting at .500 or worse, games back of the Wild Card, then it becomes somewhat easier for the club to pull back on the reigns.  While you could argue that would only further demonstrate the need for reinforcement, the players would only have themselves to blame if they couldn't handle the Reds and the Pirates.
My take is winning these two series pushes the Marlins to make that final transaction. Anything less than that, and the club will save the desirable pieces they have left for the offseason, or perhaps even as trade bait for the 2017 deadline.  Make no mistake, no matter how this season goes, the 2017 club will be a good one. And after how this most recent Trade Deadline went, you can be sure the Marlins will have an eye on making sure they're not in such a weak bargaining position the next time they need a midseason pick me up.