Marlins Adeiny Hechavarria: Worst Hitter in Baseball (Again)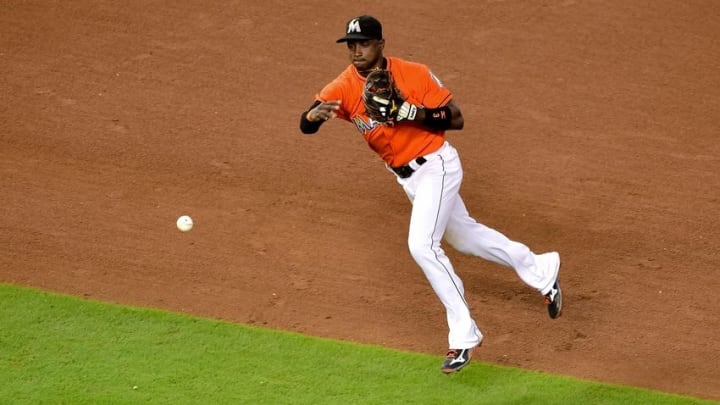 Aug 14, 2016; Miami, FL, USA; Miami Marlins shortstop Adeiny Hechavarria (3) throws over to first base during the fifth inning against the Chicago White Sox at Marlins Park. Mandatory Credit: Steve Mitchell-USA TODAY Sports /
Miami Marlins shortstop Adeiny Hechavarria sure does make a lot of awesome plays in the field! Unfortunately, that's about all he does. The Marlins have taken to social media with the hashtag #HechofaPlay to bring attention to "Hech" and let fans see his glove wizardry. That's all fun and impressive, but the fact remains that position players are expected to play the field AND hit.
In 2013, Adeiny Hechavarria was statistically the worst player in baseball. There wasn't even a close second. His pathetic .227/.267/.298 line combined with awful base running and mediocre-at-best defense (more on that later) made for a -2.1 fWAR. His closest competition was White Sox "first baseman" Paul Konerko at -1.8 and the last season of Michael Young's career at -0.6.
More from Marlin Maniac
2014 was a bit better, as Hech raised his line to a decent .276/.308/.356 and ran the bases a little better. He was still a liability on the bases, but not to the extent he had been the previous season. His defense was still not great, but his overall improvement earned him a 0.3 fWAR, good enough to be outside of the bottom 20 in baseball for the season.
2015 was Adeiny's breakout season. His defense finally measured up to the way MLB's highlight videos would make you think they always had. His offense continued to improve just like it had the year before. He ended up with a line of .281/.315/.374. By no means an offensive juggernaut, but combined with his (finally) elite defense? That's good for a 3.1 WAR, 5.1 points higher than his previous career total of -2.0. 
Defense was always Adeiny's calling card, but advanced metrics showed that early in his career, he needed to dip, dodge, duck, dive, and dodge for balls that other shortstops would easily get to due to his bad instincts and a slow first step. Something clicked before the 2015 season though, and that athletic ability that he always had came through even better as he developed better instincts and a much quicker first step.
2016 should have been even better. Hechavarria was an elite defender and he had improved with the bat every single year. His 3.1 fWAR in 2015 was nice, but could he push for 4.0 with an extra year of experience? Well, yes and no. Yes, he pushed for 4, but no, it wasn't 4.0. Hech finished the 2016 season with 0.4 fWAR. Unfortunately for him, that's still the second best season of his career. His offense fell off a cliff to the tune of .236/.283/.311. His defense was still great though, making him a positive contributor to the Marlins, albeit only on one side of the ball.
After being one of the best shortstops in baseball overall in 2015, Hech was back to the side of that list where he's more comfortable: he was the worst offensive player in the game in 2016. As a positive, his base running improved significantly. 2016 was the first season where Hech provided his team positive value on the base paths instead of his usual negative. His base running value, per season beginning in 2013: -5.0, -1.3, -0.9, +2.0.
Next: How Wacky Would Gonzalez Reunion Be?
If the Marlins hope to compete next season, they need to put Hech on a short leash. If he starts the season with signs of repeating 2015, then he's a fine starting shortstop for a team with playoff aspirations. If he starts off looking like 2015 was a fluke career year and 2016 is more his norm, then the Marlins will need to look into moving some pieces (what pieces, no one knows…) to acquire a legitimate Major League caliber starting shortstop. 2017 will be a big year for the Marlins for many reasons, but it may be an even bigger year for Adeiny Hechavarria's baseball future.