Miami Marlins 2016: End of the Season Grades, Analysis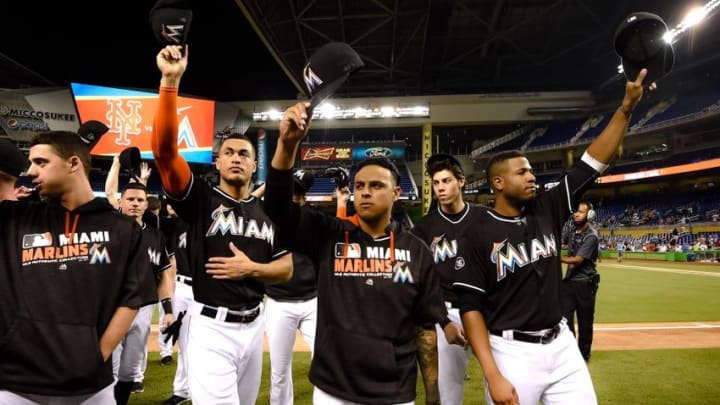 The Miami Marlins bid adieu to 2016. How'd they do? Mandatory Credit: Steve Mitchell-USA TODAY Sports /
David Phelps was a regular Swiss Army Knife for the Marlins in 2016. Mandatory Credit: Steve Mitchell-USA TODAY Sports /
David Phelps: A-
David Phelps was outstanding this year. In whatever role that Phelps was put in, he did his job and did his job well. For most of the season Phelps was the Marlins' set up man. At the end of the season he was put into the starting rotation and was great at that too. He even had 4 saves for the Fish. Phelps had 7 wins and 6 losses this season with a superb era of 2.28. In 86.2 innings pitched Phelps struck out 114 opposing batters. It would be great to see Phelps in a starting pitchers role next season for the Fish, because he has the potential and the stuff to be a top of the rotation type of pitcher.
Kyle Barraclough: A-
Another guy who was a gem for the Marlins out of the bullpen was Kyle Barraclough. He had a great rookie campaign this season and is a guy who just might be the Marlins closer in the future. He had a very good era of 2.85 in 72.2 innings pitched. He had 6 wins and 3 losses and struck out 113 opposing batters which was among the major league leaders for relievers. Kyle Barraclough was great in the Marlins' bullpen this season and it will be fun to see how he improves for the 2017 season.
A.J. Ramos: B+
Every time that Ramos pitches it seems like drama is involved. It seems like he always has base runners on, but he seems to usually find his way out of those jams. Ramos had a very good season and made the All Star team for the first time in his career. He was 40 for 43 in save opportunities which is great. In 64 innings pitched this season Ramos struck out 73 opposing batters. He finished the season with a 2.81 era. If Ramos can limit his walks and a few base runners he would be an even better reliever. Only time will tell if he will be the Marlins' closer next season. But either way, the Marlins' have a very good relief pitcher in Ramos, and he had a very solid 2016 campaign.
And that wraps up staffer Eric Quinones 'review of notable standouts and flameouts on the 2016 Marlins. Check back next week for another roster review, and daily for more Marlins content.