MLB All-Star Game: Miami Marlins All-Time All-Star 3B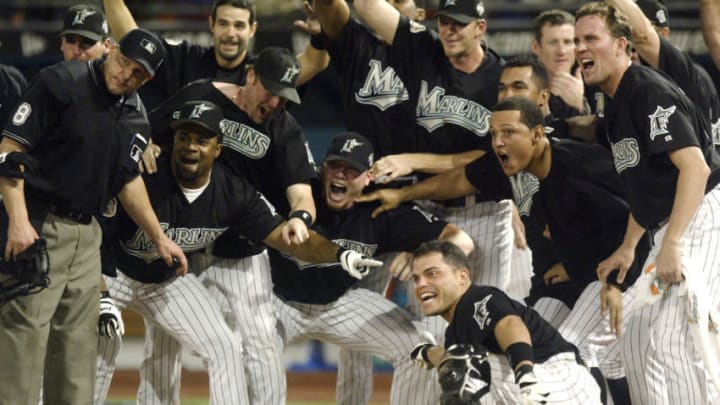 MIAMI - OCTOBER 22: The Florida Marlins await Alex Gonzalez /
Photo by A. Messerschmidt/Getty Images /
Best Marlins All-Star Season At Third: 2006 Miguel Cabrera
Alright, so no mystery which Miami Marlins third baseman this was going to be. Cabrera's worst season tops Lowell's best, and Sheffield's best year came as an outfielder.
But which Miguel Cabrera campaign to pick from? Seeing as how all were awesome, that's a tall task. The 2004 and 2005 seasons saw him contribute to winning teams, fighting for the playoffs right to the end. Both were also 33 HR, 110+ RBI efforts. Impressive stuff.
My vote has to be 2006 though.
Cabrera batted .339 that season, with a stupid good .430 OBP. His dominance was so absolute that you couldn't even intentionally walk him:
Okay, that was one time. But after the no-hitters, it's the coolest thing I've ever seen in a regular season Marlins game.
The 2006 season stands out just as much for Miggy's intangible contributions as it does for his counting stats. Indeed, the 26 HRs he hit was his lowest full-season total with the Fish. Yet, in a year where he was the only frightening bat in the lineup, he managed to get on base more.
And as the season went on, the collection of rookies around him gelled into one of the more dangerous offenses the Marlins had ever fielded.
In just his fourth big league season, he was forced to not just be the guy, but to be the veteran leader. And he pulled it off with flying colors.
The Miami Marlins had stars before, and have had superstars since. But when it comes to sustained track record, to year in and year out excellence from the start, there's only one name to seriously consider when it comes time to pick the franchise best. Cabrera was never even hurt, with 157 games in 2007 being his lowest full-season total.
Whatever the position, Miguel Cabrera stands alone on the All-Time All-Star list.