Teams around MLB treating Miami Marlins like bargain bin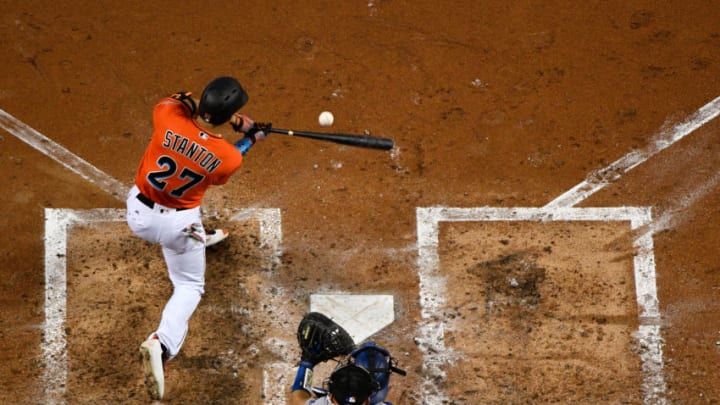 MIAMI, FL - JULY 16: Giancarlo Stanton /
The season hasn't gone as planned for the Miami Marlins. They've struggled to win consistently, and teams now regard them as pool of resources.
As it turns out, starting pitching is still important to putting together a playoff caliber club. This offseason, the Miami Marlins signed several veteran arms to try and ease the pressure from a sub-par starting rotation. It hasn't worked out.
The team finds themselves well below .500 as the trade deadline nears. Any other season, they'd be sellers. But with the sale of the team in flux, it complicates matters significantly. In all likelihood, they aren't moving any of their building block pieces.
That certainly hasn't stopped teams from asking about them though.
The Miami Marlins have three players that are untouchable under any circumstance; JT Realmuto, Christian Yelich, and Dan Straily. All three are young, and team controllable. If a competitor wants to pry one of these players away from Miami, it's going to take a pirates booty.
Anything short of a gutting one of the leagues top farm systems won't get a deal done for those players.
Then, there is a second tier of players that Miami would like keep around. Giancarlo Stanton, Marcell Ozuna, Dee Gordon, Justin Bour should all still be Miami Marlins on August 1st. All players are under-30 and stars in the league. With the exception of Stanton, all are under affordable, team control for several seasons.
To net one of these, it's going to take a considerable sum as well. For Stanton, it will take three top prospects and a club willing to take his entire contract. For Ozuna, three prospects in the organizations top 10 could do it. To net Gordon or Bour, it will take at least one in the top 10, three in the top 30.
It's a longshot any of these players will be moved.
The phone keeps ringing
Given the history of the Marlins franchise, and of owner Jeffery Loria in particular, teams keep calling. There is no shortage of combinations linking teams to Marlins players. The Cardinals want Ozuna. San Francisco is calling about Stanton. The Royals are in love with Dee Gordon.
Teams around the league are treating the Miami Marlins like a grab bag of Major League talent. Reports indicate that the team is listening to all offers, but that doesn't mean they are considering them. It's due diligence to take a phone call when another general manager rings you with a proposal.
Next: Why Giancarlo Stanton should be traded
If you're a fan of the Miami Marlins current core, you should be pleased with the way the trading deadline will go. They'll move several pieces in the bullpen, and likely veteran Martin Prado as well. But these are all casualties of common deadline practice. Nothing to justify a firesale.