Miami Marlins prospect haul: Brayan Hernandez, OF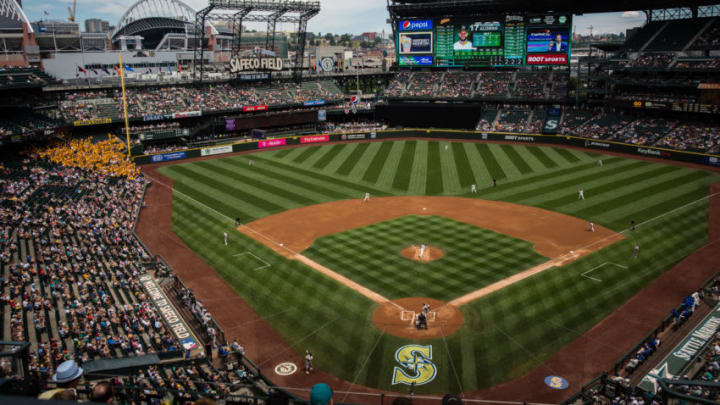 SEATTLE, WA - JULY 09: The Seattle Mariners play the Oakland Athletics in the first inning at Safeco Field on July 9, 2017 in Seattle, Washington. (Photo by Lindsey Wasson/Getty Images) /
The Miami Marlins have officially sent David Phelps to Seattle in exchange for a package of prospects. Let's take a look at the headliner of the group.
In what could be considered their first deadline deal of the season, the Miami Marlins took the best on the board approach. Needing pitchers first and foremost, they chose an offer from the Seattle Mariners that included several mid-range pitchers, and a plus outfielder.
News of the deal first started to break overnight, with the Mariners reportedly looking to add a reliever. The Mariners and Marlins linked up before noon, and the David Phelps era came to a close.
It's time to run downstairs and unwrap whats under the prospect tree.
The entire haul included Brayan Hernandez, Brandon Miller, Pablo Lopez, and Lukas Schiraldi. Hernandez is a toolsy outfielder from the Dominican Republic. The other members of the class are right-handed pitchers.
Hernandez excites most. With the potential to be a true five-tool player. He was the sixth overall prospect in the Seattle Mariners system at the time he was traded.
To net Hernandez as an international free agent, the Mariners had to open up their wallet. Hernandez cost them to the tune of a $1.85 million signing bonus. There is optimism that Hernandez will become a Major League player in time. His development will determine what kind.
At this point, it's difficult to say just how good Hernandez is going to be. Only 19-years old, he's all projection. How he develops into his wiry 6-foot-2 frame will largely determine what kind of player he becomes.
As it stands, his biggest assets aren't at the plate. He is a fast on the base paths and in the outfield, and possesses a strong arm to go with above-average fielding. There have been flashes of what he can do with the bat.
Projection to performance
Hernandez hasn't wowed, but he's been above average against his first tastes of professional pitching. In his first season of rookie ball, Hernandez batted .285/.324/.400, drove in 19 runs, and stole nine bases. He hit only one home run, but slugged five in Dominican League winter ball later that year.
This year, he's appeared with the Everett AquaSox at short-A. The step up has seen a slight dip in his performance, albeit an expected one. Hernandez is hitting .252/.306/.408 this season. Two home runs, along with 15 RBI's in fewer at bats than he had all of last season is an improvement.
Next: Miami Marlins send Phelps to Seattle
Hernandez is still several years away from arriving with the Miami Marlins. He'll need to cut his teeth through a few more levels of minor league competition before he is ready. Then there is the issue of him being blocked by the current outfielders on the roster.
Miami has one of the best outfields in baseball. One of their current outfielders would need to be moved for him to have a spot.