MLB All-Star Game: Miami Marlins All-Time All-Star Outfield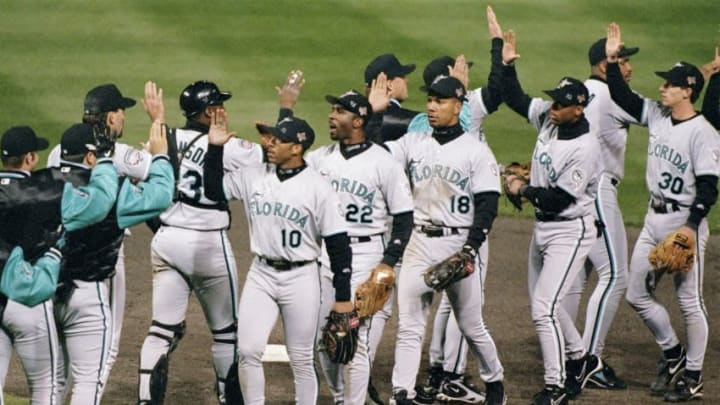 23 Oct 1997: Outfielder Gary Sheffield of the Florida Marlins (center) greets other players during the fifth game of the World Series against the Cleveland Indians at Jacobs Field in Cleveland, Ohio. The Marlins won the game 8-7. Mandatory Credit: Jed Jacobsohn /Allsport /
If you like power, you're going to love the three finalists for the Miami Marlins All-Time All-Star outfield.
Spoiler alert. That clump of Miami Marlins pictured above is going to be pretty inclusive in terms of this article.
Hopefully by this point in the series, you've gotten the sense that this is a franchise that has never really wanted for star power. It's just one that has usually wanted for having enough of it, in the right places and at the right time.
The 2004 and 2008 Marlins had enough pitching, but needed one more big bat. From 2014 onwards, it's been one more elite pitcher. Sometimes it's just been the lack of even an MLB average bench or bullpen.  The team's frequently limited finances have led to hamstringing attempts to contend.
But seldom has that All-Star talent been concentrated outside the infield.
The outfield is an interesting spot to study, because in terms of pure talent, the best unit the Miami Marlins have ever fielded is the one out there right now. Marcell Ozuna, Giancarlo Stanton, Christian Yelich….not a Jeremy Hermida or Devon White among them.
All three would arguably be worth building a franchise around.
Rarely have the Marlins had more than one All-Star outfielder out there. But they've definitely had at least one on multiple occasions. Seven individuals, with five repeaters, to be precise.
Best units in terms of All-Star talent though? Pretty much bookended over a twenty year period, between that first championship club and today's crew. You can certainly argue there have been some major omissions from Midsummer Classic honors , and we'll take a look at those as well.
Without further ado though, your top three Miami Marlins All-Star outfielders, as well as the three best individual All-Star outfielding seasons. No particular order here, but let's call it greatest to least. Counterarguments encouraged in the comments or on Twitter.