MLB All-Star Game: Miami Marlins All-Time All-Star Outfield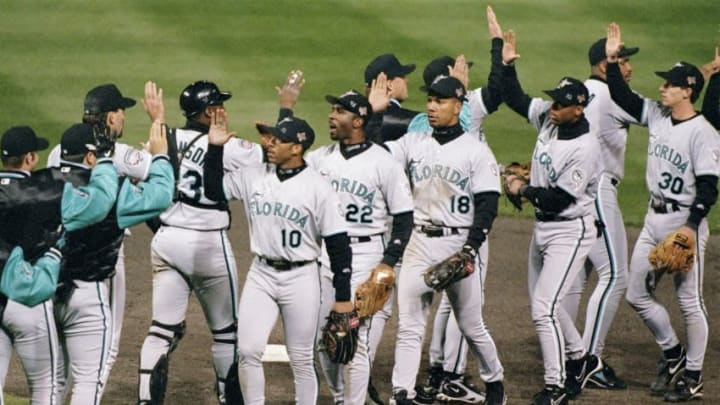 23 Oct 1997: Outfielder Gary Sheffield of the Florida Marlins (center) greets other players during the fifth game of the World Series against the Cleveland Indians at Jacobs Field in Cleveland, Ohio. The Marlins won the game 8-7. Mandatory Credit: Jed Jacobsohn /Allsport /
ST. LOUIS, MO – JULY 5: Giancarlo Stanton /
Marlins All-Time All-Star Outfielder No. 3: Giancarlo Stanton
Last but not least, we land on a contemporary member of the Miami Marlins.
Time to talk Giancarlo Stanton, the franchise's all-time home run leader and a four time Marlins All-Star. If he survives this forthcoming trade deadline, he could end up going down as the greatest Marlin ever.
Could. Greatest All-Star outfielder though? That's probably a lock if he ends up playing in over 140 games in 2017. Even without ever being part of a winning team, he's simply too talented to overlook. Health and health alone has kept him from wrapping up that distinction years ago.
As a Marlin, the only club he has ever known, he's already reached 238 HRs for his career. The guy is only 27 years old. That's roughly 59 HRs ahead of Sheffield's pace at that age. A terrific athlete as well, there's little rush for Stanton to usher off to the American League. Much like Sheffield himself, he should be able to play the outfield well into his thirties.
Best Single Season All-Star : 2014/2017 Giancarlo Stanton 
If Stanton plays out the 2017 season with the Miami Marlins, it's going to be hard not to go with this one. The way he's heated up, his home run total could flirt with 50. Barring a complete roster blowup, he should reach 100 RBIs for the second time in his career.
But until that happens, the answer is clearly 2014. Had he not seen his season ended by that terrifying fastball to the face, he very likely wins the NL MVP. Batting .288, with 37 HRs and 105 RBI, Stanton posted career highs in homers, RBIs, and OBP that year. That's crazy good, and was good enough to keep Miami alive for October right up to the end of the season.
Next: All-Time All Ways At Third
Starting rotation is next up, with plenty of fine Miami Marlins arms to choose from.
Sadly, in what will probably be this season's epitaph, none are members of the 2017 staff.