Miami Marlins prospect haul: OF, Ricardo Cespedes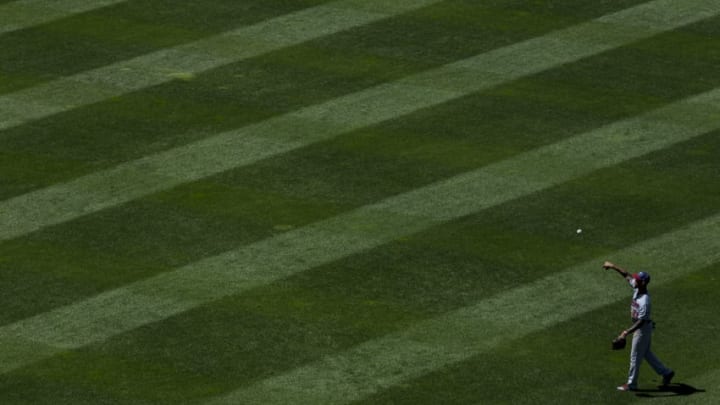 KANSAS CITY, MO - JULY 1: Byron Buxton /
The Miami Marlins finally pulled the trigger on a deal that sent closer AJ Ramos to another city. In return from the New York Mets, they received two prospects.
Previously, we took a look at the headlining name in the deal that sent AJ Ramos to New York. Here, we look at the second prospect the Miami Marlins acquired from the New York Mets farm system. A toolsy outfielder with upside, Ricardo Cespedes is all projection right now.
Cespedes is a long way from making his debut in Major League Baseball. But when he does, he possesses all the tools to play there on an everyday basis. He'll need to make strides in his development. At only 19-years old, he has time.
The Miami Marlins gambled when including Cespedes in this trade. If the gamble pays off, it'll pay off big.
On the field, there is nothing that Cespedes can't do. What scouts love most, though, is his arm from the outfield. In fact, his ability to fire laser beams after shagging flyballs will likely mean he'll change positions at some point.
Thus far, Cespedes has played primarily in centerfield. With average speed, and a cannon for an arm, a spot in one of the corners is a likelier resting place. Were it not for right field being blocked by the biggest, longest contract in baseball history, he'd slot nicely into that spot.
As it stands, Cespedes isn't hitting for a ton of power. While his power potential will improve has he grows and fills out, he'll probably never be a 30-homer type guy. 15-20 home runs a season seems possible, but he'll do most of his damage doubling into the gaps.
Early in his career, he's been everything the Mets expected him to be when they signed him out of the Dominican Republic in 2013 for $725,000.
Where Cespedes fits in
In many ways, Cespedes serves mostly as a throw in to the deal for AJ Ramos. The outfield is one of the few places the Miami Marlins are deep in the minor leagues. MLB ranks Cespedes as the 24th best prospect in the Miami Marlins system. There are five outfielders currently ranked above him.
The following five are all clustered behind him, rounding out the organizations top 30.
However, the Cespedes is young, and could develop and rise through the ranks quickly. He has limited experience playing professional baseball, and scouts love his raw ability. Because he is all projection at this point, it's difficult to justify him slotting higher than where he is.
If he starts to put together numbers better than the .243/.270/.280 that he's compiled to this point, he might see his stock rise.
Cespedes could serve the team in another move that will send him elsewhere. That isn't likely to happen this season, though. With a number of other players to leap frog in the organization, it'll be difficult for him to ever appear in a Miami Marlins uniform.
Current lack of vacancy at the Major League level is so far off in regards to when could make his debut, it isn't worth considering as a hurdle.
Next: Miami Marlins taking calculated steps in Ramos trade
Cespedes possesses everything needed to be a starting outfielder at the Major League level. While MLB projects his arrival date somewhere in 2020, that seems optimistic. He's an athletic outfielder with all the tools, but is yet to learn how to use them.