Miami Marlins draft spotlight: Montana Parsons, 24th round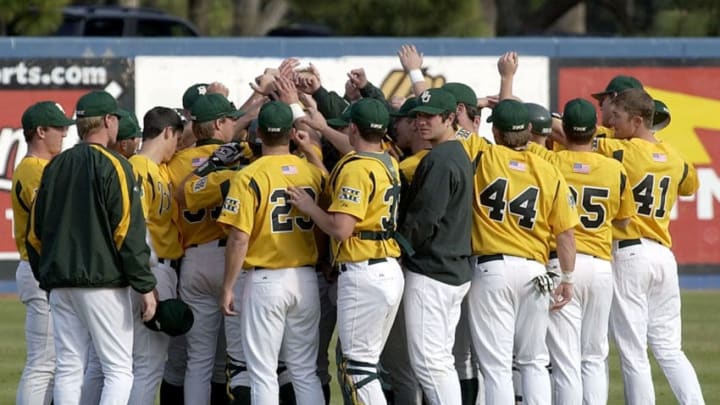 The Baylor Bears celebrate as they defeated the Long Beach State Dirtbags 4 to 2 on March 5, 2006 at Blair Field in Long Beach, California. (Photo by Reuben Canales/Getty Images) /
The Miami Marlins shelled out the big bucks to bring Montana Parsons into the fold. They expect big things out of the Baylor Bears right-hander.
The Miami Marlins are thin on the farm. For that reason, they decided to stockpile in their greatest area of need in the 2017 draft. The organization felt that it got several late-round steals, and didn't mind slapping their wallet down to ink them to a contract.
The same holds true for Montana Parsons. Miami loves his upside. They love his upside so much, they paid out a $100,000 signing bonus to get him to come aboard. It's worth noting the signing bonus of the previous three players combined was $5,000.
In limited action, Parsons performed well.
Parsons appeared in only two games, and threw only three innings. The Marlins limited his workload to ease him into the starting rotation. In two starts, he pitched three innings and didn't allow a run to score. He faced a total of 12 batters, walking two and allowing one hit.
Even in that short amount of time, Parsons's biggest weakness was on display. He struggles to locate his pitches. In his lone season pitching for Baylor, he walked 38 batters in 88.1 innings. Even while the other tools are there, his command will have to improve to advance through the system.
Next season will be a big year for the 22-year old. He'll be turning 23 around the time the season is starting, and the Marlins will want to get him out of rookie ball. Ideally, his command would improve to the point that he'd be Major League ready by 2021 or 2022.
Expecting a 24th round selection to pitch his way to the big leagues is a lofty expectation. But after inking Parsons to a hefty signing bonus, the Marlins obviously have confidence in his abilities.
Future TBD
Parsons got to Baylor by way San Jacinto junior college, where he pitched for two years. He pitched well enough to be drafted by the Chicago Cubs in the 30th round in 2016, but decided to honor his commitment to Baylor instead.
Many expected he'd return to Baylor for his senior season. While that doesn't explain why he fell all the way to the 24th round, his skill set could have seen him go somewhere in the mid-teens if there weren't concerns about his signing.
Next: Miami Marlins draft spotlight: Montana Parsons. 24th round
Parsons first season was cut short by an undisclosed suspension after his second appearance. He'll have a lot to prove to the organization when next season rolls around.