Marlins Park could be due for a name change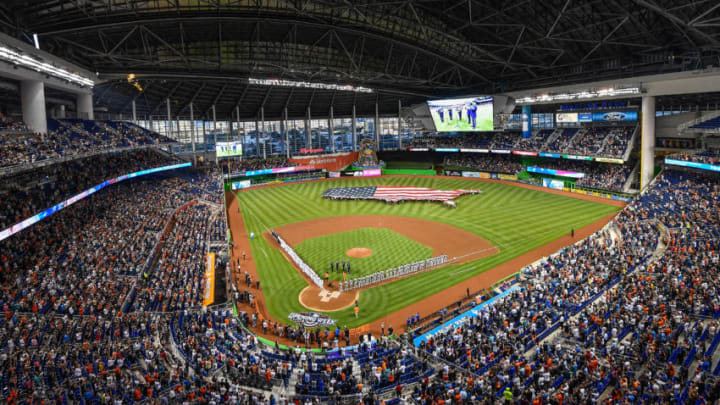 MIAMI, FL - APRIL 11: The national anthem is observed before the home opener between the Miami Marlins and the Atlanta Braves at Marlins Park on April 11, 2017 in Miami, Florida. (Photo by Mark Brown/Getty Images) /
The Miami Marlins failed to secure a sponsor after they completed the build of Marlins Park. Can we expect one under new ownership?
Playing in a ballpark that bears the name of the team has a certain ring to it. The New York Yankees, Los Angeles Dodgers, and the Washington Nationals are the only teams in Major League Baseball that play in a stadium without a ceding naming rights to a sponsor.
Add the Baltimore Orioles, who play at Oriole Park in Camden Yards, and the Los Angeles Angels, who play in Angel Stadium of Anaheim for good measure. It's an elite group of teams that the Miami Marlins aren't in position to hang with.
They'll likely look to leave the gang and find a sponsor this offseason.
As early as February of this year, David Sampson and Jeffery Loria were trying to lure in any one of three companies. They were unable to do so. Little has changed in the organization besides the fact that they have a new owner.
Any prospective sponsor would be buying the hope that Derek Jeter is going to turn the franchise around.
There is something of a give-and-take here. While playing in "Marlins Park" does help boost the mystique and allure of the brand, it produces zero revenue for the team. Right now, cash is king. And playing in an empty "Marlins Park" isn't as desirable as playing in a packed "Goya Grounds".
Derek Jeter is likely to have more success finding a sponsor for no other reason than he is Derek Jeter. It might seem silly, but his name carries weight. Everyone wants to sit at the cool kids table.
After purchasing a wildly overvalued team that is reportedly in massive amounts of debt, finding someone to pay big money to put their name on the building is a no-brainer.
Potential suitors
There have been no official reports on the possible naming rights partners. The notoriously tight-lipped ownership group that preceded Jeter discussed the issue in generalities. Meanwhile Jeter is only a few weeks into the job.
If put to a fan vote, "Pan con Lechon Park" would be expected to do well. It would be a relatively small improvement over Marlins Park in terms of revenue stream, but it would deliver hungry fans in droves.
"Cafe Bustelo Ballpark" isn't out of the realm of possibility. If they don't seize the opportunity, they could see it fall to their rival and become "Pilon Park".
Next: Five surprise players for the Miami Marlins in 2017
Whoever secures the naming rights, expect it to happen sometime before spring training rolls around in March. Finding a partner never seemed like a priority to Lora and Samson, but that will be changing under Jeter and Bruce Sherman.