Miami Marlins simulation: Approach to the hot stove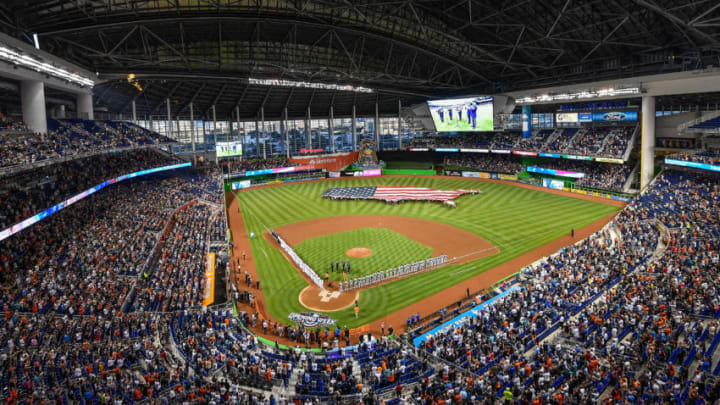 MIAMI, FL - APRIL 11: The national anthem is observed before the home opener between the Miami Marlins and the Atlanta Braves at Marlins Park on April 11, 2017 in Miami, Florida. (Photo by Mark Brown/Getty Images) /
All of the FanSided site experts got together to create a mock hot stove. As the general manager of the Miami Marlins, here's how I approached the offseason.
In real life, the Miami Marlins are probably going to trade Giancarlo Stanton. His salary is high, and the team wants to cut payroll into the $90 million range. Derek Jeter and company have outlined a plan that includes trading three players to get there.
In the name of realism, I wanted to take a similar approach in this simulation. I wanted to keep payroll somewhere within the $90-$100 million range, build for the immediate future, and reasonably compete for a wildcard spot in 2018.
The Miami Marlins payroll last season was $117 million. Between contractual salary hikes and arbitration, that number figured to rise slightly north of $140 million. Too much for 77 wins.
What I set out to do as the general manager of the Miami Marlins was shed ancillary pieces, but keep the core of the team intact. I was willing to trade Stanton and Marcell Ozuna, but only if I was thrilled with what I was getting back, and adhered to certain set of guidelines.
More on that in a later post.
The way I figured, the Miami Marlins have one of the oddest rosters in baseball. A hodgepodge combination of of ultra-young, team controlled, talented ballplayers and vastly overpaid veterans. The latter was what I intend to put on the chopping block.
The players I wanted to move most were Martin Prado, Brad Ziegler, and Junichi Tazawa. Between them, they accounted for $26.5 million in payroll this year. If I were able to move these three contracts, the $140 million figure would shrink to $113.5.
The problem, though, was that all of these players were overpaid, and underperformed in 2017. Trading any one of these players would be an accomplishment, all three was a pipe dream.
Even if I succeeded, it wouldn't be enough. I was still $13.5-$23.5 million short of the Miami Marlins goal.
Balancing act
What made the Miami Marlins rebuild so difficult was the lack of prospects in the minor leagues. For what it's worth, I think the Miami Marlins farm system will yield more Major League players than it's getting credit for, but that means nothing when trading assets now.
The first thing I decided to do was rope off the Miami Marlins top 30 prospects; none of these guys were available. Instead, I decided to use the Marlins bullpen as a way of lubricating deals in which the contracts seemed onerous. Nobody major, but the attrition had to come from somewhere.
Next: Intro to the FanSided GM simulation
This was a very cool experiment to be a part of, and over the next few days, I'll be posting the details of each trade. I'll tell you what went on behind the scenes, what my though process was, and why I think it helps the team in 2018 and beyond.
Please feel free to reach out to me on twitter about this simulation. I want this be a conversation between us! Don't be afraid to tell me why I'm an idiot, a genius, or just to say "go Fish!"