New additions to the Miami Marlins MLB top 30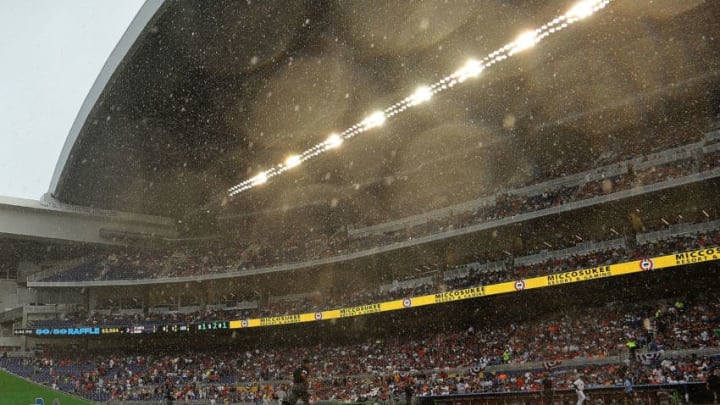 MIAMI, FL - APRIL 06: Teams retreat to the dugout during a rain delay at Marlins Park during Opening Day between the Miami Marlins and the Atlanta Braves on April 6, 2015 in Miami, Florida. (Photo by Mike Ehrmann/Getty Images) /
The Miami Marlins were slow to start making moves in during the hot stove. But they have been wheeling and dealing lately, and have already improved the farm.
As it turns out, Dee Gordon brought back players that MLB.com regards more highly than those Giancarlo Stanton returned. The Miami Marlins sent the Seattle Mariners Dee Gordon, and in exchange received three players.
While Stanton returned their most highly rated prospect, Jorge Guzman, the other they returned failed to crack the top 30. (Give it time, though, Jose Devers is learning how to play professional baseball very quickly).
All of these moves have led to a vastly different looking MLB top 30 for the Miami Marlins.
Just how high these moves bolster the Miami farm system as a whole remains to be seen. But so far, the moves they've made in the offseason are doing wonders for their top 30. Once considered a laughing stock, the Marlins are pulling themselves up to respectability in the minor leagues.
All this, and they haven't traded away their biggest bargaining chip: Marcell Ozuna. When that trade inevitably comes, they should land several major prospects. If they make the right deal, there will be a new starting pitcher at the top of overall top 30 list.
Let's take a look at the newest additions to the list.