New additions to the Miami Marlins MLB top 30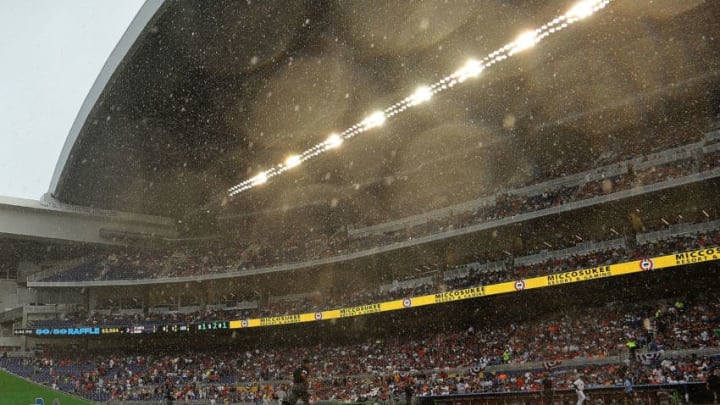 MIAMI, FL - APRIL 06: Teams retreat to the dugout during a rain delay at Marlins Park during Opening Day between the Miami Marlins and the Atlanta Braves on April 6, 2015 in Miami, Florida. (Photo by Mike Ehrmann/Getty Images) /
No. 3, Jorge Guzman, RHP
The prize of the trades so far. Gary Denbo hand-selected Jorge Guzman from the New York Yankees system. He absolutely lights up the gun, and maintains his velocity deep into starts. I did a write-up of him earlier this week, check that out for more details.
But in short, his velocity lives in the 97-102 miles per hour range. Refinements in his delivery suggest that he will be able to maintain that speed, and remain injury free for a long time. His breaking pitches have also come a long way.
At the Winter Meetings on Monday, GM Michael Hill says he believes Guzman has the ability to be a "front-line ace". Denbo has now been involved in two trades that brought Guzman to an organization that he was a part of.
He traded for Guzman in a deal that sent Brian McCann to the Houston Astros, and now in the trade for Giancarlo Stanton. That's not a coincidence. And Denbo, a renown talent evaluator, is obviously very high on him.
Next: Miami Marlins expected to be active at Winter Meetings
The Miami Marlins are in full-on rebuild mode. Early moves have already started changing the face of the organization. They're getting younger, and building towards a brighter future. Get on board, there are stars on this list, and more are to come.