Miami Marlins Visit Philadelphia Phillies: Series Preview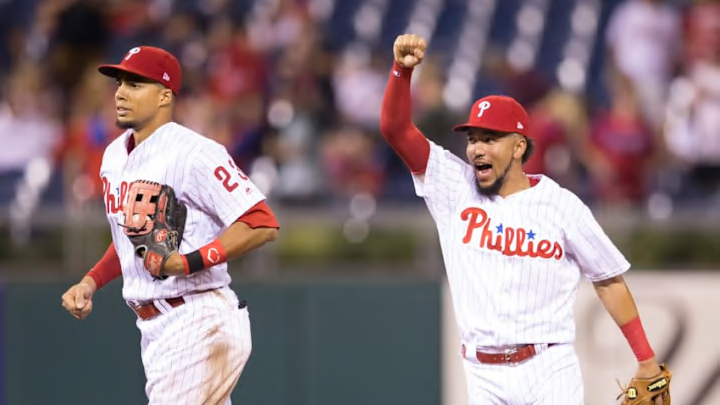 PHILADELPHIA, PA - SEPTEMBER 13: Aaron Altherr /
The Miami Marlins sit at 2-4 after the first week of major league action. Keeping that pace would result in a 54-108 season. It's not all doom and gloom, though.
Despite that, the Marlins have outperformed their expectation in a lot of ways. Especially considering the continued absence of J.T. Riddle, Martin Prado, and Wei-Yin Chen. Then at the last minute, they found out they would also lack Dan Straily, J.T. Realmuto, and Magneuris Sierra.
Miami already had their work cut out for them to just reach the .500 mark. So far, they've been better than advertised. Half of their losses came in extra innings, and those contests could have easily gone the other way.
Marlins Lineup
Rookie Lewis Brinson has been leading off and playing center field, and that trend should continue into this three-game, five-day series. He's started the season seven-for-31, scoring three times and collecting just one RBI. He's drawn one walk and struck out seven times.
Batting second for the Marlins has been long-time Marlin short-time left fielder Derek Dietrich. Dietrich has started the season eight-for-28. He has the team's only triple and smacked Miami's first home run. He's scored three and knocked in another three, while drawing two walks and whiffing six times.
Starlin Castro has been and should continue to bat third and play second. He's been a bit of a wunderkind lately, despite going 0 for his last five in Tuesday's 13-inning loss to the Red Sox. He's currently hitting 9-for-28 with a double, four RBI, five walks and five strikeouts while playing respectable when not outstanding defense.
The "other" rookie on Miami's roster, Brian Anderson, should bat cleanup and man the hot corner. He leads the team with six RBI and six walks, with five strikeouts. He has half of Miami's two stolen bases, and has gone 8-for-25 with six runs, a double, and a homer. His "prospect" eligibility will expire after three more plate appearances, and that should happen on Thursday afternoon.
Batting fifth will likely continue to be Justin Bour, at first base. Bour has started off slowly this year, going four-for-22 in the early going. He has a double, two RBI, two walks and three strikeouts. He tends to collect his home runs in bunches, so it should only be a matter of time.
In the six spot, Miami may continue to run out Cameron Maybin from right field. Maybin leads the team with a .364 average, going eight-for-22 with three doubles, eight runs, and two RBI. He has struck out three times while drawing as many walks. He has the other Marlins' stolen base.
Batting seventh will be Miguel Rojas, who started hot but has since cooled off. He's six-for-24 with two doubles and a run, one RBI, two walks and six strikeouts.
Catching and batting eighth should continue to be split by Bryan Holaday and Chad Wallach. The two have combined to hit just 3-for-26, with a double, two runs, two RBI, three walks, and 12 strikeouts. That's 11 by Wallach, who has been simply magnificent defensively to make up for it.
Pitching
With the more-or-less permanent move of Odrisamer Despaigne to the bullpen, Miami will rely on a four man rotation for at least another week. Jose Urena pitched on Tuesday. The other three (all rookies) will face the Phillies.
Thursday: Caleb Smith vs. Nick Pivetta
While we don't know a great deal about Smith, we do know that he lowered his career ERA by nearly a run in his first start for the Marlins last week. He struck out eight Cubs in 5 1/3 innings in the second game of the season, allowing just one earned run.
Nick Pivetta has slightly more history to him. He was 8-10 last season for the Phillies. He had a 6.02 ERA and 140 strikeouts in 133 innings, along with a 1.51 WHIP. Opponents have hit .284 off him through his career. On March 30th against the Atlanta Braves, he surrendered three earned runs in four innings, on five hits and two walks while whiffing three.
Saturday: Dillon Peters vs. Vince Velasquez
Dillon Peters remains the only Marlin starter with a win. That is if you don't count Despaigne, who was a starter when he picked up his win in relief. Peters has started a grand total of seven games through his career to this point. He's 2-2 with a 4.34 ERA and 29 K's in 37 1/3 innings. His 1.55 WHIP is lower at home at Marlins Park. In three starts on the road, Peters is 0-1 with a 9.88 ERA and a 2.268 WHIP. Hopefully that trend doesn't continue against Velasquez.
Vince Velasquez is a four-year veteran, his last three seasons coming with Philadelphia. He's appeared in 59 games, starting 47 times. He's whiffed 282 in 261 1/3 innings, with a 1.39 WHIP and a 4.55 ERA to go with his 11-15 record. This season didn't start out great for him. He surrendered nine hits and two walks for four earned runs in just 2 2/3 innings against the Braves on March 31st. He struck out four, but took the loss.
Sunday: Trevor Richards vs. Jake Arrieta
Trevor Richards will get his second start for the Marlins, who have had to rely on the untested rookie in the face of continued short-handedness in the rotation. Richards is highly regarded, and has a 1.023 career WHIP in the minor leagues. His first start, against the Red Sox on April 2nd, didn't go as well as hoped. He allowed five earned runs in 4 1/3 innings on eight hits and a walk. He also struck out five. He'll need to pitch very well considering who his opponent is.
And that's Jake Arrieta, the 2015 NL Cy Young Award winner. Now 32, Arrieta has an 88-56 lifetime record over 191 starts. He's struck out 1,070 in 1,161 innings, and recorded a 1.17 WHIP and a 3.57 ERA. This will be his first start of the campaign.
Phillies Lineup
The top of Philadelphia's depth chart, as provided by MLB.COM:
C – Jorge Alfaro
1B – Carlos Santana
2B – César Hernández
3B – Maikel Franco
SS – J.P. Crawford
LF – Rhys Hoskins
CF – Odubel Herrera
RF – Nick Williams 
Miami's Last
Miami just got swept by the Boston Red Sox at home in a two-game series. On Monday night, they dropped a 7-3 decision in Trevor Richard's major league debut. On Tuesday, it took the Boston Red Sox 13 innings to defeat the Marlins by a 4-2 final.
Philadelphia's Last
Philadelphia has started out their season 1-4, and are the only team looking up at Miami in the NL East standings. After going 1-2 to the Braves to open the season, they dropped their last two against the New York Mets.
After getting snowed out on Monday, the Phillies were shut out on Tuesday by Matt Harvey in a 2-0 final. On Wednesday, the Mets won 4-2 on the strength of a two-run, first-inning Yoenis Cespedes round-tripper. Noah Syndergaard whiffed seven in just four innings.
"I want to give a lot of kudos and a lot of thanks to my homies in the bullpen. They really held down the fort. – Syndergaard"
Marlins vs. Phillies History
Philadelphia owns a 229-187 edge in head-to-head play against Miami. Miami's most frequent foe through history, this will be the 417th time the two will face off.
Miami's longest winning streak against the Phillies was from September 23rd, 2003 through April 22nd, 2004, when the Marlins took nine straight. That in itself was in a period of time when Miami won 23-of-26 overall from Philadelphia.
Philadelphia won seven straight on three separate occasions, most recently from May 21st through September 17th, 2013.
The Phillies have won the overall series between the two for eight years in a row now. The Marlins were swept in the last series, on September 12th, 13th, and 14th last season.
More from Marlins News
Integrated Team Leaders
Average
Rhys Hoskins .471
Cameron Maybin .364
Starlin Castro .321
OBP
Rhys Hoskins .550
Brian Anderson .469
Cameron Maybin .440
SLG
Rhys Hoskins .824
Cameron Maybin .500
Brian Anderson .480
Hits
Starlin Castro 9
Brian Anderson 8
Derek Dietrich 8
Cameron Maybin 8
Rhys Hoskins 8
Runs
Brian Anderson 6
Starlin Castro 4
Carlos Santana 4
RBI
Brian Anderson 6
Starlin Castro 4
Three tied with 3
ERA
Jarlin Garcia 0.00
Dillon Peters 0.00
Aaron Nola 2.61
IP
Jose Urena 11.0
Aaron Nola 10.1
Odrisamer Despaigne 8.0
SO
Jose Urena 9
Caleb Smith 8
Aaron Nola 7
Odrisamer Despaigne 7
WHIP
Jarlin Garcia 0.50
Aaron Nola 1.16
Dillon Peters 1.17
Next: Miami vs. Boston Post-Series Analysis
Thanks for reading our preview article. Check back tomorrow for more news, including the first Farm Report of the season. In the meantime, like us on Facebook, follow us on Twitter, and keep it bookmarked here for all the latest Marlins news.