Miami Marlins Draft Prospect: Outfielder Jarred Kelenic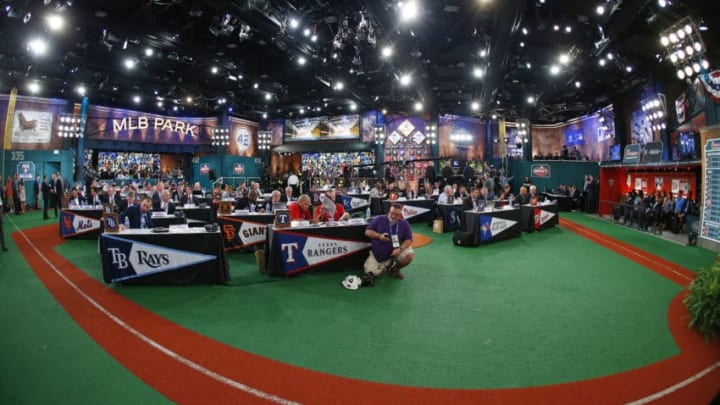 SECAUCUS, NJ - JUNE 5: Representatives from all 30 Major League Baseball teams fill Studio 42 during the MLB First-Year Player Draft at the MLB Network Studio on June 5, 2014 in Secacucus, New Jersey. (Photo by Rich Schultz/Getty Images) /
Miami Marlins Scouting Report
Hit: 60
Kelenic has the natural ability to consistently barrel up baseballs at the dish, many of his outs are even loud. Scouts praise his approach at the plate. He is a true hitter with what MLB.com calls a "professional approach from the left side of the plate." The Miami Marlins could always use another left-handed bat.
He has a level swing that stays over the strike zone/hitting zone for a long time. Because of that, his swing mechanics aide in his ability to find barrel so often.
Power: 50
Kelenic has natural raw power and has shown the ability to turn on baseballs for home runs. While he does not have the most power in the draft, it is definitely solid. At his peak, Kelenic should have anywhere from 15-25 home run power.
Run: 55
Kelenic is an above average runner, which helps him on both sides of the ball. His speed enables him to leg out extra base hits as well as track down fly balls in center field.
Arm: 60
Kelenic has solid arm strength from the outfield. If he were to move off of center field later in his career, he will be able to play right field because of his strong arm.
Field: 50
Just as almost every player in this draft, or any draft for that matter, there are questions regarding Kelenic's ability to stay in center field. He has been praised for his route running and first step quickness and from what I have seen, he should be able to play a passable center field at the very least.