Why Baseball on the 4th of July is Important to Me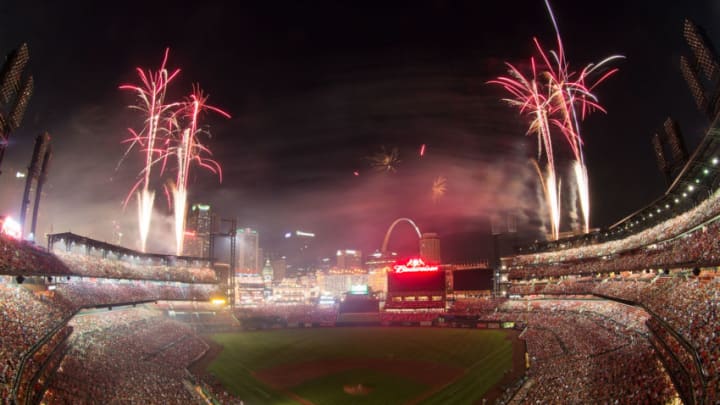 ST. LOUIS, MO - JULY 3: Fireworks are shot off to celebrate Independence Day after a game between the St. Louis Cardinals and the Miami Marlins at Busch Stadium on July 3, 2017 in St. Louis, Missouri. (Photo by Dilip Vishwanat/Getty Images) /
I love baseball. There's no denying it. It has always been my first love, the sport I want to watch most in person and the one I reference more than any other. It has become my mistress of sorts over the past 38 years, the one I keep coming back to when it shows up on the television or happens to be in town for minor league baseball games.
Baseball is the one thing I can count on.
On July 4, 1979, an eight-year-old boy went to his first baseball game. Not a Major League game, mind you. A game with the Miami Orioles. It was his first introduction to how magical this sport is.
My father took my brother and me to the ballpark, something he had talked about for over a week and could not wait to show us what "real" baseball was all about. I had spent many Saturdays on the couch watching Pete Rose, Reggie Jackson, and Steve Carlton play the game I hadn't fallen in love with yet.
More from Marlins News
Seeing a game in person was exciting and a bit scary at the same time. My fears were relieved once we got to the old, rickety park with the bleacher seats and only a handful of food vendors. It wasn't about the food or the comfort level, it was about watching the players on the field my father told me.
He was right. That night I saw an 18-year-old kid named Cal Ripken, Jr. who honestly looked like he couldn't shave and was as thin as a Twizzler. I did not know it yet, but Ripken would become my favorite player and to this day I think of him in the same iconic virtue as Obi-Wan Kenobi, Bob Griese, and Sam Malone from Cheers.
Baseball gets me. Baseball on the 4th of July is sacred for so many reasons. It brings families together to ballparks. It creates memories to discuss 30 years from now. It allows people to sit and watch human chess while enjoying the camaraderie. It's what fathers and sons and daughters do, playing catch in the backyard while cooking out and reminiscing about days gone by.
Anthony Castrovince of MLB.com wrote, "There is always something special about the intersection of America's pastime and America's birthday, with baseball serving as the backdrop for a gathering of friends and family." Baseball has become our friend, our family over the years – something we look forward to, something we cannot live without with the celebration of hot dogs, soda pop, and fireworks.
It's not just Major League Baseball that gets us in the "feels" as the minor league game experience has become as significant in the current lexicon of this sport. On Tuesday night, 11,762 fans packed the Baseball Grounds of Jacksonville to watch the Jumbo Shrimp, the Miami Marlins Double-A affiliate fall to the Montgomery Biscuits, 3-1. It was the largest crowd at the stadium in the past 10 years and the fourth largest baseball crowd in the stadium's history.
Next: Jose Urena to Start, Tristan Pompey Reports
I wasn't there the other night, but I am there regularly cheering on the home team, reliving my youth and enjoying the atmosphere of one of the best minor league ballparks in America.
Today, just like almost every 4th of July, I will be a baseball fan. The Red Sox and the National kick things off at 11:05 a.m. The Marlins host the Tampa Bay Rays at 1:10 p.m. and 13 other games are on tap. It looks like a full day of spending time with family and friends, celebrating our independence.
It also gives me a chance to remember how great baseball is and a share a moment of my past with you that started this love affair I have with the diamond and will continue to have for years to come.