Marlins Reliever Kyle Barraclough Can Still Impact This Ballclub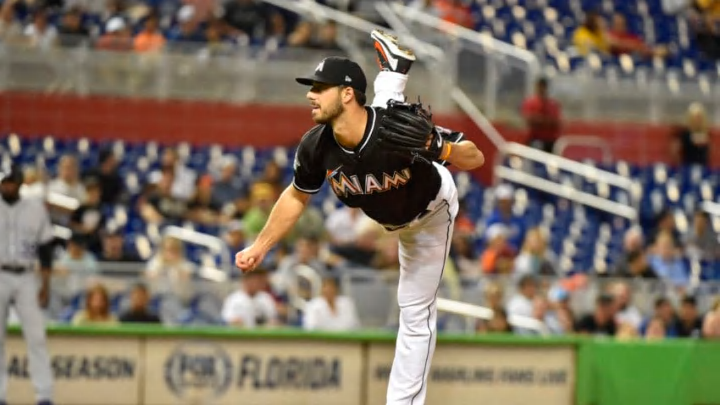 MIAMI, FL - APRIL 28: Kyle Barraclough #46 of the Miami Marlins throws a pitch during the ninth inning against the Colorado Rockies at Marlins Park on April 28, 2018 in Miami, Florida. (Photo by Eric Espada/Getty Images) /
Miami Marlins reliever Kyle Barraclough comes off the disabled list with a chance to help this franchise down the stretch.
There are 32 games remaining in the 2018 MLB season for the Miami Marlins. Reliever Kyle Barraclough hopes to help this franchise finish those games with momentum.
The reliever turned closer turned reliever comes back from the disabled list rested and hopefully without the pitching issues that forced the team's manager Don Mattingly to remove him from the back end of the bullpen.
Barraclough is a tale of two seasons – with the majority being about his success on the mound. The last few chapters tell a different story of struggle on the mound, pain in his back and a search for consistency.
The Marlins need the old Barraclough who was a feared closer and someone sought after at the MLB Trade Deadline. Now, with a month remaining in the season, fans and the organization have a chance to see to see him reinvent himself as a dominant reliever.
More from Marlins News
"We want to get him out there on the mound and try to let him just work his way up," Manager Don Mattingly said in a story by Andre C. Fernandez of the Miami Herald.
Baby steps may be the best way to approach Barraclough's comeback. The Marlins will expand their roster next week. The team has many relievers in the bullpen and Mattingly is using a closer by committee approach.
The organization may walk into Spring Training in 2019 without a true closer, but that does not mean Barraclough cannot find his groove again and become the pitcher he was when he was named the National League Reliever of the Month for June.
Barraclough's move from the disabled list was one of several moves the Marlins made on Friday. Per Fernandez,
Pitchers Jarlin Garcia (right shin contusion) and Elieser Hernandez (right third finger blister) were each placed on the 10-day disabled list and recalled reliever Ben Meyer from Triple-A New Orleans. There will be others by next weekend where the dugout will look crowded and opportunities will become fewer.
The move to bring back Barraclough eases the loss of Garcia, who had the most relief appearances of any Marlins player last season with 78. Having both in the bullpen would be the optimum situation for Mattingly and the pitching staff.
Nirvana would be that Barraclough returns to form and helps the Marlins play better baseball in the last four weeks of the season. Having him pitch in relief as a setup man would help balance tired arms. It's a step in the right direction for him and the Marlins.
A baby step that could lead to a bigger jump next season.