Will the Miami Marlins Endure a 100-Loss Season?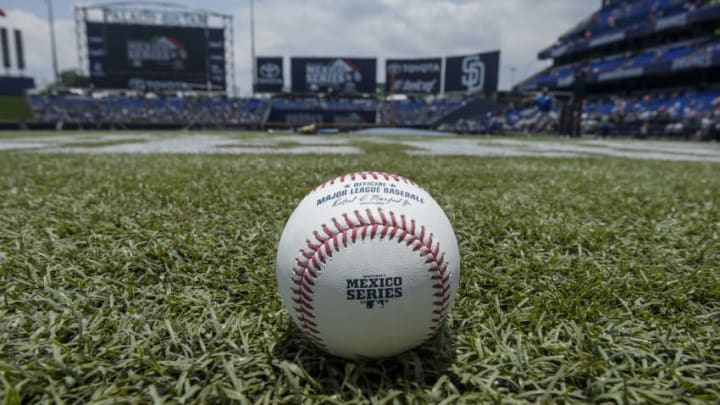 MONTERREY, MEXICO - MAY 06: Detail of the official game ball prior the MLB game between the San Diego Padres and the Los Angeles Dodgers at Estadio de Beisbol Monterrey on May 6, 2018 in Monterrey, Mexico. (Photo by Azael Rodriguez/Getty Images) /
The Miami Marlins have now lost five straight games. Could this team reach the 100-loss plateau for the 2018 season?
It's a topic no one in Miami wants to talk about. But as the 2018 MLB season draws to a close, will the Miami Marlins finish this campaign with 100 losses and still plenty of questions about the team's future to be answered?
Another loss, this time a 5-4 game to the Philadelphia Phillies gave Miami its fifth straight road loss and another explanation from manager Don Mattingly as to what is happening with this ball club. When he announced that Jarlin Garcia would take the mound shortly before the team's game on Saturday, it was more of a "wait and see" approach to what could happen.
Unfortunately, the results were as expected for a team that cannot seem to get out of its own way of late.
""This is one of those games that could go really good or go really bad," the manager said in a pregame TV interview."
More from Marlins News
The Marlins are 57-91 for the season and approaching a low-water mark no team wants to be associated with. Miami has been a team treading water for most of the season. It's something that many thought could happen. It's something the organization hoped would not be the case.
Reaching 63 wins in some way would be a moral victory for Mattingly and his ball club. On their current pace, Miami would finish 62-100 for the season.
This is one of those games that was considered a mixed-bag with the bullpen once again giving up key runs when it needed to be an iron wall.
""Forty-one players were used between the two teams," Joe Bloss explained. "But one elevated fastball doomed the Marlins as their toying with baseball's latest experiment fizzled, keeping the 67-91 Marlins at the bottom of the National League and giving the Phillies their first series win since sweeping Miami here Aug. 2-5.""
This is a team whose bullpen at times looks to be on life support.
As Bloss write, after Garcia was pulled, the bullpen did what it does best lately – surrender more runs. Poor defense led to two unearned runs in the second. Drew Rucinski took a two-run lead into the fifth but surrendered a three-run home run to Cesar Hernandez to give the Phillies a lead they would not relinquish.
The move to start Garcia may be one where Mattingly wants to see if the youngster is once again a candidate for the rotation. Garcia was Miami's most dominant pitcher (if that word can be used) the first month of the 2018 season.