Is Jorge Guzman the Miami Marlins Closer of the Future?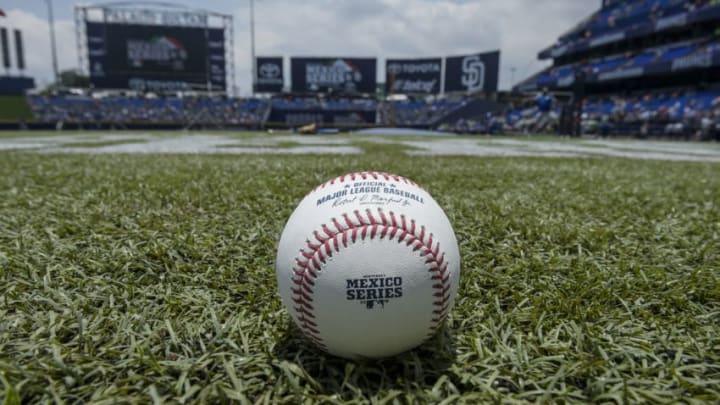 MONTERREY, MEXICO - MAY 06: Detail of the official game ball prior the MLB game between the San Diego Padres and the Los Angeles Dodgers at Estadio de Beisbol Monterrey on May 6, 2018 in Monterrey, Mexico. (Photo by Azael Rodriguez/Getty Images) /
Despite not winning a single game this season and the fact Miami Marlins pitcher Jorge Guzman was a starter this season for Class-A Greensboro, some view him as a future closer.
He still may be two seasons away from playing on the Major League level, but Jorge Guzman already has the Miami Marlins organization talking about his future. That's a good thing as the 22-year-old figures to be part of the pitching staff in some form or fashion. Miami has a plethora of pitching prospects, all competing for a spot in the rotation.
Guzman's best bet may be to work out of the bullpen, throwing heat as Miami's closer of the future.
Even without a win to his credit this season, Marlins president of baseball operations Michael Hill said the team is high on the youngster and his development this season. The numbers he posted as a member of the Grasshoppers tell a different story that his wins and losses.
More from Marlins News
""In spite of the fact he didn't get a win this year, the growth he has made with his mechanics and delivery and repeatability are really going to pay dividends because his stuff is off the charts, when you think about his fastball," Hill said via the Miami Herald."
There is a place for Guzman on the Major League level when he is "ready" for that moment. For now, the front office must decide how they bring him along on the minor league level. Jarlin Garcia, who is now considered a "fringe" starter with the organization, started out as a front-line starter in the minors before being groomed as a reliever.
He appeared in 78 games for the Marlins last season, all in relief. He spent time between Miami and Triple-A New Orleans this season, splitting time on the bump between starter and set-up man. The same could happen to Guzman, with a final spot as the ninth-inning role.
""His changeup has developed and his slider has turned into an above-average pitch for him as well. It's a matter of consistency until you see him crash through and have success at this level," Hill added.""
The belief is Guzman could begin next season at Double-A Jacksonville. The Marlins still view him as a starter, though some scouts from other teams predict he will be a closer. The Marlins have other pitchers who could fit in as starters or relievers in their minor league system and on the Major League roster.