The team that Marlins CEO Derek Jeter built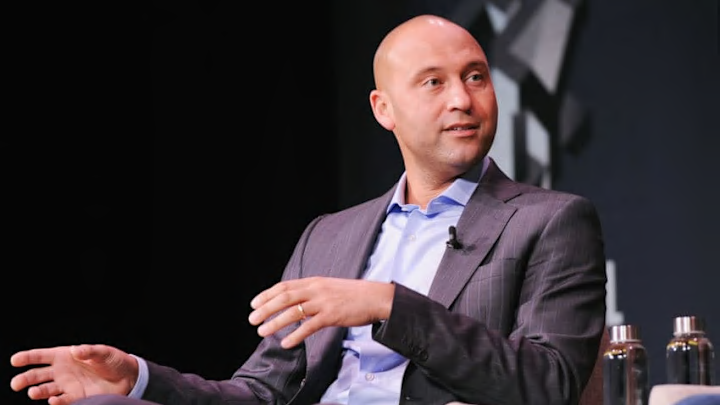 NEW YORK, NY - OCTOBER 26: Derek Jeter speaks onstage for Derek Jeter On Finding Professional Fulfillment After The Dream Career Featuring Derek Jeter, Founder, The Players' Tribune, And Jeff Levick, CEO, The Players' Tribune during Fast Company Innovation Festival at 92nd Street Y on October 26, 2017 in New York City. (Photo by Craig Barritt/Getty Images for Fast Company) /
Derek Jeter and the Miami Marlins continue to grow together in the world of Major League Baseball. The current co-owner and CEO of the National League East team continues to make changes for the future of this organization.
It's been a year. Maybe not the year Miami Marlins CEO Derek Jeter had in mind, but a year nonetheless in baseball he won't soon forget. Things have changed for the former New York Yankees legend. There was plenty of losses, not enough wins and for a man who many thought was untouchable and perfect in a sports world of icons, the former second baseman took his share of hits.
The reality of owning a Major League baseball team is there is no set lineup to call on. There is no steadfast rule to winning. Jeter, who made a living out of clutch hits and is one of the best teammates to several future Hall of Famers, learned how to run a professional sports team on the fly.
In the eyes of many Marlins fans in South Florida and across the baseball landscape, the 2018 season was a failure for Jeter. It may prove to be his best lesson in how to start at the bottom and build a foundation brick by brick.
Now comes the tougher part of improving on what was already broken. Jeter doesn't have the pedigree of years of managerial or ownership experience. He is a newcomer of sorts in a business of steadfast owners who demand success to improve the bottom line of baseball.
More from Marlins News
Jeter wants to win like everyone else but is taking his own sweet time doing it. In a world of faster pace baseball, the Miami Marlins have been the tortoise trying to keep up with a bunch of rabbits.
There were 98 reasons to dislike the Marlins last season. If those weren't enough the last two National League MVPs – Giancarlo Stanton and soon-to-be-named Christian Yelich – are no longer in Miami. The pitching staff was ineffective. Youth has been served and power pitchers are on the way. But the time it will take to develop a growing farm system may irk more fans.
Time isn't on Jeter's side in Miami. Fans have waited since 2003 for a playoff berth and haven't enjoyed a winning record since 2009.
In an oceandrive.com story by Isabel Gonzalez, Jeter wants to make the Marlins into a winner and Marlins Park a "can't miss" destination. It's a noble challenge, but fixing the issues on the field should come before the changes to menus, nightlife and celebrity status. The Marlins do have the worst attendance in all of MLB, but if the team isn't winning, fans won't come to the ballpark no matter how exciting the new menu is.
Taking a baseball-first approach might be his best option. Maybe he can call upon Brian Cashman for advice or look to add other big-name MLB execs to help his cause. Buck Showalter is out there and could be a welcomed addition to the front office. The only problem I see with a move like that is the national media standing on watch to see if Jeter will ax his former teammate Don Mattingly and insert Showalter as the team's new manager.
Year two of this rebuild began before the team's final out of the 2018 season. Jeter and his front office move onto the toddler stage of this rebuilding project. The natives continue to remain restless in the stands and the community. This is a team of speed and defense, not power and high energy.
If the Marlins show signs of life and rise toward a .500 season in 2019, Jeter will be hailed an innovator and trendsetter. If the team struggles and remains below 70 wins, the whispers of his failure will get louder. The man with the golden smile and rockstar looks must get this right. If not, Miami's baseball support will vanish. Regardless of how entertaining the extras at Marlins Park are, a losing organization squashes that kind of excitement.