Miami Marlins 2018 Review: Ryan Lillie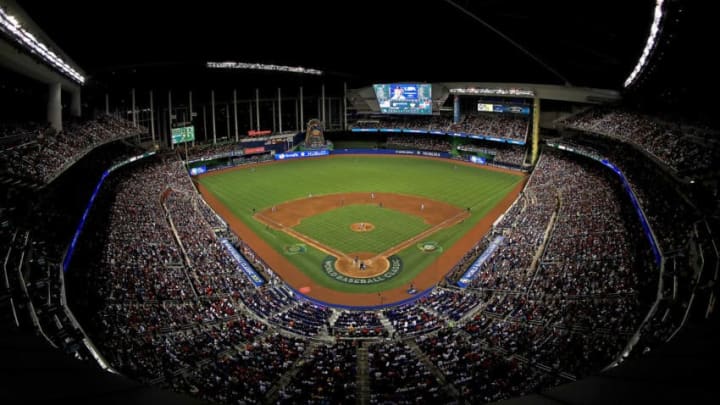 MIAMI, FL - MARCH 11: A general view of Miami Marlins Stadium during a Pool C game of the 2017 World Baseball Classic between the United States and the Dominican Republic on March 11, 2017 in Miami, Florida. (Photo by Mike Ehrmann/Getty Images) /
Throughout the 2018/2019 offseason, Marlin Maniac will devote one article each for every player who appeared in the Miami Marlins system for the 2018 season. Every. Single. Player. This is Part 83 of 286. Stay tuned.
Ryan Gregory Lillie is a 6′, 210 lb. right-handed pitcher from Murrieta, California. Mostly a reliever when he started out, Lillie went to school just a bit up the road for UC-Riverside, and earned a 4.49 ERA over 72 contests in three seasons. Through his college career, his fastball improved from 89-91 as a freshman, to 91-93 as a sophomore and 92-97 as a senior, according to mlb.com.
Lillie was born on May 1st, 1996, and the Miami Marlins chose him in the fifth round of the 2017 MLB Amateur Draft with the 149th overall selection. Just under a quarter of players selected with that choice eventually reach the majors, led by Michael Young (1997, Toronto Blue Jays, 24.6 career WAR), Warren Cromartie (1971, Chicago White Sox, 16.4 WAR), Rick Camp (1974, Atlanta Braves, 12.1 WAR), and Jeff Samardzija (2006, Chicago Cubs, 12.0 WAR). Lillie is a believer in hard work:
"Never ever let anyone outwork you. Don't think a couple nights or mornings off are okay. It's not. You never have time to relax until you've had your name introduced into the HOF, which is a long long, long way for everybody and very rare. Which means, we have a bunch of time to work our butts off. Listen to your coaches, your parents, and yourself and enjoy the game. It's the greatest game ever for a reason! Get after it and never stop working. You have to love this game more than anything you know to even get by. – Lillie, as quoted by Evan Massey at lifestylesports101.com"
You can follow Lillie on Twitter @LillieRyan27.
After his selection, Lillie signed with the Miami Marlins for a $320,000 bonus and reported to the GCL Marlins, in the Florida-based, rookie-level Gulf Coast League. After striking out three over 2 2/3 hitless innings in two games, he was pushed up a level to the short-season-A Batavia Muckdogs, in the New York-Penn League.
Lillie's won-loss record with Batavia was 0-5, but that really undersells his effectiveness while there in New York. He pitched to a 4.35 ERA and a 1.26 WHIP, walking only five batters and striking out 27 in 31 innings of work over nine appearances. Near the very end of the season, he was again promoted, to the single-A Greensboro Grasshoppers in the South Atlantic League. He whiffed four in two scoreless innings to close the season.
When I spoke to Lillie during the 2017 winter break (while working for fishstripes.com), he was out delivering Christmas trees. It was a reminder that these minor league guys don't get paid hardly anything aside from the signing bonus.
"I've developed a really good relationship with the owners. It's funny because if it's seasonal for us, it's seasonal for them, too. When I told them I played baseball they were all about it, then we started to get to know each other. When they said they were from Kannapolis, I was like, "No way, we play them like 1,000 times a year," it's true, I looked at the schedule. The next day, she had a schedule out, saying, "I'll be at that one, and that one, and that one…" It keeps me busy, and I'm being smart about it, not lifting anything overhead. This is my first go around of the offseason and I'm already ready to go out and play, so I need something to keep me down a little bit. I love this job, and I did the pumpkin patch as well. – Lillie"
More from Marlins News
Lillie started the 2018 season with the Grasshoppers, and posted an impressive 6-2 record with a 2.58 ERA in 14 rotational starts. He struck out 77 in 80 2/3 innings, while holding opposing bats to a .227 average and a 0.97 WHIP. On April 19th, in a 3-2 victory over the Charleston RiverDogs, Lillie struck out eight over seven shutout two-hit innings. He was named to the 2018 SAL Mid-Season All-Star Team.
Satisfied with Lillie's overall improvement, the Miami Marlins promoted him to the high-A Jupiter Hammerheads in the Florida State League. While Lillie was there he went 0-4 through seven starts, with 27 whiffs in 34 2/3 innings. After the season the Marlins traded Lillie to the Cincinnati Reds for "future considerations," namely, money to sign the Mesa brothers in free agency.
Lillie is a class act, and we at Marlin Maniac wish him well against 28 of the teams in the major leagues. He's got the arm to eventually make the major leagues, and we should look for him at that level sometime in 2020, only not with us (sad emoticon).
Thanks for reading. Like us on Facebook, follow us on Twitter, and subscribe to our daily newsletter to keep up with the Miami Marlins.