Will the Marlins non-tender pitcher Dan Straily?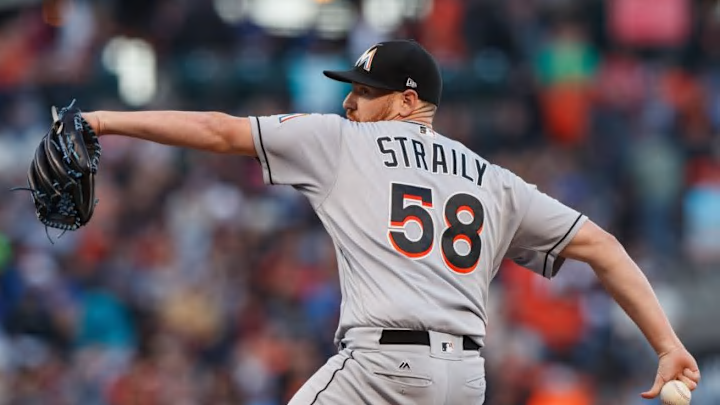 SAN FRANCISCO, CA - JULY 07: Dan Straily #58 of the Miami Marlins pitches against the San Francisco Giants during the first inning at AT&T Park on July 7, 2017 in San Francisco, California. (Photo by Jason O. Watson/Getty Images) /
Does the Miami Marlins payroll for the 2019 season include enough cash to keep pitcher Dan Straily on the roster?
With more than 200 players eligible for salary arbitration, there will many stars who cash in and get a raise. Then, there are those who will find disappointment in not getting what they feel they deserve. Some teams, including the Miami Marlins, may not give their players a chance to cash in at all.
Miami doesn't have the plethora of free agents that other teams have to deal with, but now that they have released veteran utility infielder Derek Dietrich is pitcher Dan Straily a prime candidate to become a non-tendered player.
"As Mark Feinsand of MLB.com wrote, "For players tendered contracts, they will have more than a month to work out new deals with their teams before exchanging arbitration figures on Jan. 11, after which they can still hammer out a deal or go to a hearing.""
More from Marlins News
Straily is arbitration eligible. The veteran who is an innings eater for the Marlins and the steadying force of a young rotation has been the subject of trade rumors last season and has been the topic of the South Florida franchise potentially releasing him this offseason.
In my opinion, Straily's presence on the mound and in the clubhouse is an added bonus given the team's growing youthful roster.
""Derek Dietrich was the top candidate to be non-tendered, but the Marlins designated him for assignment on Tuesday [last week]. Straily earned $3.37 million last season and will be due a raise in his second year of arbitration. But after posting a 4.12 ERA and 5.11 FIP in 23 starts (122 1/3 innings) in 2018, the Marlins could let the soon-to-be 30-year-old walk and look elsewhere," Feinsand explained."
If the organization lets Straily walk, it means they are once again counting on Jose Urena to be the workhorse of the rotation and want to see if Wei-Yin Chen becomes the starter they hoped he would be when he signed as a free agent from Baltimore in 2016.
The Milwaukee Brewers and Oakland A's were said to be interested in Straily at the trade deadline, but no deal could get done by either team.
"According to spotrac.com, "Straily signed a 1 year / $3,375,000 contract with the Miami Marlins, including $3,375,000 guaranteed, and an annual average salary of $3,375,000.""
If the team does keep Straily and tender him an arbitration deal, 2019 will likely be his last season in South Florida. He came over to the Marlins in 2017 prior to the start of the season in a deal with the Cincinnati Reds.