How close are the Marlins to becoming relevant in the NL East?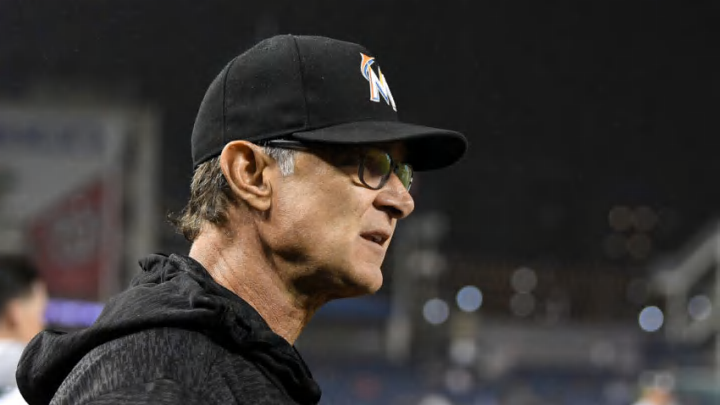 WASHINGTON, DC - SEPTEMBER 24: Manager Don Mattingly #8 of the Miami Marlins watches the game in the second inning against the Washington Nationals at Nationals Park on September 24, 2018 in Washington, DC. (Photo by Greg Fiume/Getty Images) /
Just how close are the Miami Marlins to becoming a relevant team in the National League East? According to one veteran, it's not that far away.
It's hard to look at the Miami Marlins roster from a fan's perspective and think about what could have been last season. Those days of stars in the outfield and potential playoff contention are a thing of the past. This is a rebuilding franchise, one that is closer to getting back to relevance than some might think.
When asked about his impressions of this franchise and the direction the roster is headed, veteran Neil Walker didn't hesitate in telling the media he believes the Marlins are close to becoming a contender.
""We're not far off here," the 33-year-old said Sunday morning via Joe Frisaro of MLB.com. "It's a matter of guys playing together, more than anything else. The quality of individuals and the talent level here is very apparent.""
More from Marlins News
That might be music to some Marlins fans ears, but the proof of the success of this franchise in 2019 will be seen on the field and on the mound. There are plenty of young players out there who could develop into solid stars in the Majors, but the word "could" still resonates with what is trying to be accomplished.
Everything is based on potential.
Like in all sports, the Marlins are what their record says they are until proven otherwise. So at 63 wins and a lot of questions still raised after only two games of Spring Training baseball, where does this team stand? Right where it was on Friday afternoon last week.
For Walker, Sunday's game against the Pittsburgh Pirates was a bit of a stroll down memory lane as he faced the team he broke into the Big Leagues with. He seems a lot of similarities with this current ballclub and the one he played for in 2009.
""The talent level that's here is really impressive, albeit it's on the younger side," Walker said. "I remember being part of a very similar situation in Pittsburgh in '09, '10, '11 and '12. Just loaded with talent, and eventually things come together.""
The fans in Miami hope that happens sooner than expected. Team ownership and the front office could be looking at two more seasons before the Marlins achieve mediocrity, which is something this fan base has been waiting for. It was 2009 the last time the team had a winning record and since 2003 Miami reached the postseason.
Walker and other veterans – Curtis Granderson, Martin Prado, Starlin Castro, and others – will be counted on to lead by example on the field and in the clubhouse. The front office believes it has a solid mix of youth and experience to make solid gains in 2019.
Walker agrees.
""Once guys kind of get into a mode of not so much trying to survive as young players at this level, but thrive and carry out the things they do well with their approach," Walker said. "That's when you see the group kind of mold and come together and take those next steps. It's not far off."