Marlins hit home run with addition of Jorge Posada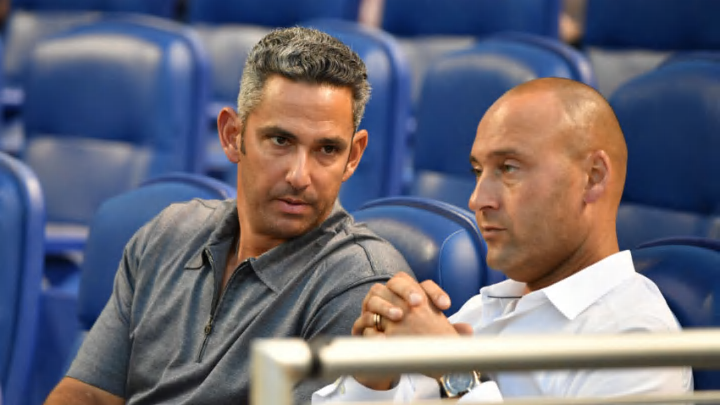 MIAMI, FL - APRIL 02: Former New York Yankee Jorge Posada visits with CEO of the Miami Marlins Derek Jeter during the game against the Boston Red Sox at Marlins Park on April 2, 2018 in Miami, Florida. (Photo by Mark Brown/Getty Images) /
Jorge Posada, the Miami Marlins latest addition to their front office, will work closely with the young catchers on the current roster.
I liked the move by the Marlins to bring in Jorge Posada as a special advisor to the organization long before the announcement was made final prior to the start of Spring Training. Now that the organization has begun playing baseball games this weekend, Posada's experience and expertise will prove invaluable to a young and developing core of players.
If the Marlins needed more than anything after the trade that sent J.T. Realmuto to the Philadelphia Phillies, it was a steadying influence who understood what it took to become a superstar backstop in the Majors.
After 17 years in the Big Leagues, it's safe to say Posada qualifies as one of the best minds when it comes to the position. His ability to share with Jorge Alfaro, Will Banfield and others in the Marlins organization could prove to be the best move of any of the coaches brought in this offseason to work not only with the front office but with Don Mattingly's coaching staff.
More from Marlins News
Team co-owner and CEO Derek Jeter once again showed he can make a move that is for the benefit of this organization by bringing in his former New York Yankees teammate. Posada has already made an impact in the short amount of time he has been with his new ball club.
""[Posada] is going to add a lot of value to our player-development system," Jeter said. "He's been with [VP of player development and scouting] Gary [Denbo] for a long time. We look forward to him having the opportunity to share some of his experiences with the young guys we have coming up.""
The Marlins have gone through an overhaul of sorts at the position. Alfaro replaces Realmuto behind the dish. Chad Wallach or Bryan Holaday will serve as the backup and Banfield is the future at the position.
The Marlins may not be one of the best in terms of catchers on the roster – yet – but that might change as Posada continues to help this roster develop.
The wheels are still turning in the right direction in Miami, for a team that has taken on a decidedly New York-style of playing baseball.
If the Marlins somehow find a winning formula like the Yankees have found for decades, with Posada, Jeter and Mattingly part of the mix, then the wait for a successful franchise may well be worth it in the long run.
""I'm coming from an organization that valued ex-players and I was always a sponge for knowledge when I was younger and I want to bring that same vibe to that organization," Posada explained."