Granderson Blasts, Bullpen Implodes, Bats Silenced, But Richards was Good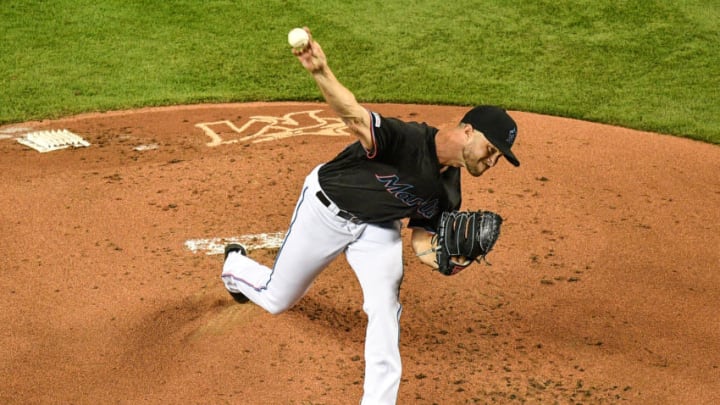 MIAMI, FL - MARCH 29: Trevor Richards #36 of the Miami Marlins throws a pitch in the second inning during the game against the Colorado Rockies at Marlins Park on March 29, 2019 in Miami, Florida. (Photo by Mark Brown/Getty Images) /
The Miami Marlins faced off against the Colorado Rockies in front of 6,503 at Marlins Park on Friday night.
With the start, Trevor Richards was hoping to make a statement – that last season and Spring Training wasn't a fluke.
Richards was one of few good things for the Miami Marlins to take away from this demoralizing loss. The 25-year-old right hander pitched well through six innings of work, striking out four and allowing only one sixth-inning run on four hits and two walks.
MIAMI, FL – MARCH 29: Trevor Richards #36 of the Miami Marlins throws a pitch in the first inning during the game against the Colorado Rockies at Marlins Park on March 29, 2019 in Miami, Florida. (Photo by Mark Brown/Getty Images) /
Richards got 52-of-81 pitches over the plate for a no-decision.
Hit
Curtis Granderson gave the Miami Marlins a lead in the fourth inning with a home run to right field, a solo shot. Of the four runs the Marlins have scored this season, 100 percent have been courtesy of the long ball, and all of them without runners on base.
The only other hit of the night for the Marlins was a Rosell Herrera infield pinch-single in the sixth inning. Herrera soon thereafter erased himself on a failed steal attempt, Miami's second failed attempt of the night. Granderson had similarly dispatched himself on a throw-em-out-strike-em-out twin killing after drawing a walk in the first inning.
LAKE BUENA VISTA, FLORIDA – MARCH 03: Rossell Herrera #5 of the Miami Marlins hits a single in the first inning against the Atlanta Braves during the Grapefruit League spring training game at Champion Stadium on March 03, 2019 in Lake Buena Vista, Florida. (Photo by Dylan Buell/Getty Images) /
With the score tied at one in the sixth inning, the Marlins did mount a threat after Herrera's base running gaffe. Rockies starter German Marquez walked Curtis Granderson, threw two wild pitches to move him to third, then walked Brian Anderson. He then hit Neil Walker with a pitch to load the bases. Starlin Castro ended the Marlins best chance with a grounder to shortstop Trevor Story, who tossed to first baseman Daniel Murphy.
Run
The Miami Marlins stated philosophy this season is to "run more." It's been stated more than once and we saw it in action through Spring Training, as the Marlins ran wild on the base paths for 30 stolen bases in 29 games. That's after stealing 45 all of last season, which ranked second-to-last in the majors.
The problem with the philosophy is first, runners need to get on base. With their pair of hits tonight, the Marlins now have a total of six through two games – and four of those, as stated above, were homers. Only two hits have generated baserunners, and the Marlins have also drawn only four walks.
Second, I know it's a small sample size, but the Miami Marlins need to better pick who are the ones trying to steal. If you think that Curtis Granderson may have lost a step since averaging 19 stolen bases a season from 2007 through 2011, you would be right. He was thrown out by a good two steps in tonight's contest, and Herrera's CS wasn't much better.
MIAMI, FL – MARCH 29: Curtis Granderson #21 of the Miami Marlins gets caught stealing in the first inning during the game against the Colorado Rockies at Marlins Park on March 29, 2019 in Miami, Florida. (Photo by Mark Brown/Getty Images) /
Pitch
Richards' solid effort didn't result in a win mostly because of Miami's failure to hit, run, and pitch. The rotation is a strength, no doubt, but it seems to be the only strength of this team. After four pitchers had a good game in yesterday's loss, today's quartet of relievers didn't quite turn the trick with the same panache.
More from Marlins News
Adam Conley allowed the game-winning run in the seventh inning, on a Charlie Blackmon RBI-double. Drew Steckenrider pitched a mostly good eighth, surrendering only a walk. Sergio Romo had a nightmare outing, allowing four runs on three hits and a walk, while retiring only one batter. Tayron Guerrero came on and allowed two inherited runners to score on a pair of hits. The result – Romo's 108.00 ERA.
But it's a long season. The Marlins have two more shots against these Rockies, firstly tomorrow's 6:10 P.M. contest. Pablo Lopez will get the ball against Colorado's number three starter Tyler Anderson.
Thanks for reading. Like us on Facebook and follow us on Twitter to keep up with the Miami Marlins.