Marlins future is still linked to jettisoned MLB stars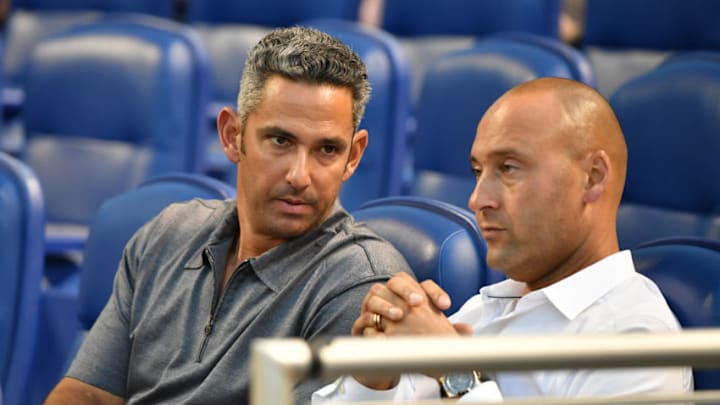 MIAMI, FL - APRIL 02: Former New York Yankee Jorge Posada visits with CEO of the Miami Marlins Derek Jeter during the game against the Boston Red Sox at Marlins Park on April 2, 2018 in Miami, Florida. (Photo by Mark Brown/Getty Images) /
While the Miami Marlins front office is doing everything it can to re-establish a connection to the fan base, the team is still years from contending on a regular basis.
I want to believe in the Miami Marlins.
I want to believe, as a fan, that the team will turn the corner next season and challenge for the National League wild-card berth. I want to believe the future is near. The reality is this team may not improve much from a 2018 season that saw them "achieve" a 63-98 record.
It's hard to point a finger at any one cause for my dejection. But looking at the 25-man roster that is still developing, the pitching rotation that shows glimpses of success but is still young, and a farm system that is lightyears better than just two seasons ago, the trades involving established MLB stars will forever define the Derek Jeter era of this organization.
More from Marlins News
It's hard not to see that Jeter and his staff are working diligently to improve the baseball experience in Miami. It is also evident he and president of the baseball operations Michael Hill have mortgaging whatever equity they had with small crowds at Marlins Park to produce for the future, not the present.
Baseball is a slow and steady process, but fans would like to see the tortoise pick up the pace just a bit.
""The Miami Marlins' second season of rebuilding is off to an inauspicious start. They have lost 12 of their first 16 ball games with a -34 run differential. Horrific home attendance figures have become a daily source of ridicule across social media," writes Wayne G. McDonnell, Jr. of Forbes.com."The Marlins are still deeply committed to a philosophy that places an extraordinary emphasis on the proper development of young talent at various levels throughout their farm system.""
When you look at the makeup of this entire organization, you cannot help but see how Jeter's decision to trade off star players over the course of his tenure, however short, here in Miami, has affected everything around the new colors of this organization. Giancarlo Stanton, Marcell Ozuna, Christian Yelich, and J.T. Realmuto have brought a hefty sum of players who could develop into stars of tomorrow.
But as the late Tom Petty said years ago, the waiting is the hardest part.
The Marlins will count on pitcher Sandy Alcantara, who came over in the deal for Ozuna, to develop into a front-line starter. Nick Neidert and Zac Gallen, who were acquired in trades as well (let's not forget Dee Gordon was sent to Seattle) are binding their time in the minors.
Also, Monte Harrison could be the power hitter this lineup needs, but the slugger still needs time to develop at Triple-A New Orleans.
Jordan Yamamoto, Jose Devers, Isan Diaz, and Jorge Guzman could be the faces of tomorrow of this franchise. Time is still a factor.
""As the Marlins are currently suffering through a period of misfortune at the outset of the season, it's difficult to associate the franchise with feelings of hope and optimism," McDonnell, Jr adds."However, even in the darkest of clouds, there is a silver lining. In the Marlins' case, you just need to know where to look and how to properly manage expectations.""
At 4-12 currently and a series with the Chicago Cubs beginning tonight, Miami can still make a move to improve over the course of the next 146 games. It's not inconceivable to think Miami could shock many and win 75 games this season. It's still a bit far-fetched but the fan in me wants this so badly.
Five years from now, these moves could prove to be the catalyst of another World Series run. They could also prove Jeter and the front office staff are geniuses. For now, the Marlins are still trying to reach mediocrity. Hopefully, the wait will be well worth it for the organization and the fan base.