The Marlins make changes to front office out of necessity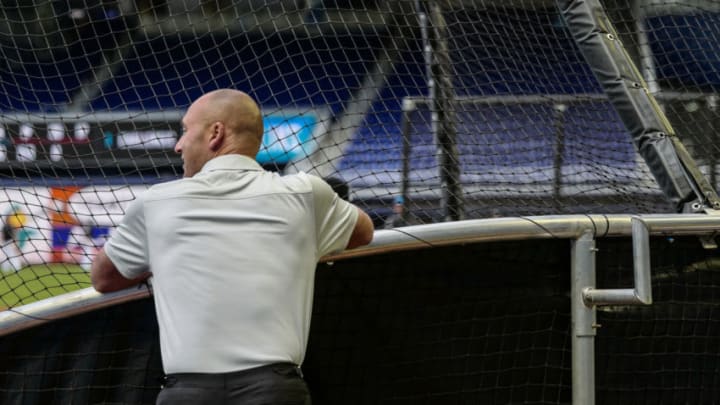 MIAMI, FL - MARCH 29: Chief Executive Officer Derek Jeter of the Miami Marlins watches batting practice prior to the game against the Colorado Rockies at Marlins Park on March 29, 2019 in Miami, Florida. (Photo by Mark Brown/Getty Images) /
The Miami Marlins parted ways with their president of business operations Chip Bowers on Thursday because expectations were not met, per Derek Jeter.
When business struggles and expectations aren't met, people get fired. That's what happened in the case of former Miami Marlins president of business operations Chip Bowers on Thursday. When team CEO Derek Jeter met with the media on Friday, he said the move had nothing to do with home attendance, but it did have to do with expectations for the organization moving forward.
Jeter, who is in his second season with the team as co-owner and the one who oversees the day-to-day operations of Marlins, hired Bowers 14 months ago with the hope his experience in professional sports could change the business culture of a struggling ball club in South Florida.
This is one of those decisions Jeter is going to be questioned about because this was decision first and second, regardless of him saying this had nothing to do with attendance figures so far this season, the facts of the team's struggles still paint another picture.
More from Marlins News
Jeter said the move was made because the Marlins wanted new leadership and a new direction when he met with the media.
""It was a decision we didn't make lightly, or spontaneously," Jeter said. "A lot of thought went into this. There's a lot that goes on behind the scenes. We have an ownership group that has high expectations, and at times we move at a challenging pace.""
Does this mean other moves will be made within the organization? Do other top figureheads have to worry about their place in the organization? How will this franchise address the need to remain competitive from a financial standpoint and to still continue with its plan to rebuild the Marlins from every aspect of professional sports?
The team lost 7-2 at Marlins Park on Friday night and have a league-worst 9-22 record. Through their first 18 home games, the Marlins have averaged 9,651 fans in attendance.
""This has to do with our overall business strategy. We felt as though there was a change needed in the leadership group," Jeter added. "Our ownership group has invested a lot of money into giving our team the tools to be successful," Jeter said. "We have high expectations. Some of those expectations weren't met. It was time for us to make a change.""
Now, the front office looks a bit different. Adam Jones has moved into the role of chief revenue officer, overseeing all revenue departments. Caroline O'Connor will move into the role of the chief operating officer, overseeing all internal service departments.
The ballclub continues with their homestand tonight as they face the Braves once again in the second game of a three-game series before traveling to Chicago to face the Cubs on Monday night. Trevor Richards looks to win his first game of the season against the Braves. Atlanta counters with Mike Soroka.