Marlins take winning streak on the road against Detroit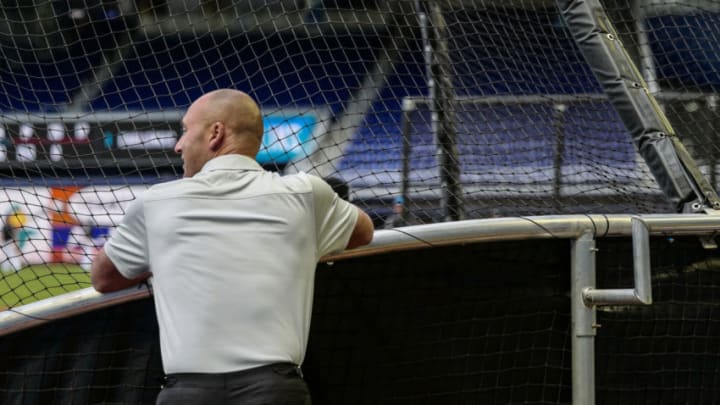 MIAMI, FL - MARCH 29: Chief Executive Officer Derek Jeter of the Miami Marlins watches batting practice prior to the game against the Colorado Rockies at Marlins Park on March 29, 2019 in Miami, Florida. (Photo by Mark Brown/Getty Images) /
Can the Marlins continue their winning ways in a three-game interleague series against the Detroit Tigers starting tonight from Comerica Park?
The best part of the Miami Marlins three-game series sweep of the New York Mets is that their "ace" Caleb Smith was not part of the celebration. The lefty will start the series in Detroit at Comerica Park opposite Spencer Turnbull, a right-hander with a 2-3 record and a 2.40 ERA.
This could be one of those low-scoring affairs that will play into the Marlins hands once again. It could also be one of those contests where an extra bat in the lineup (using the designated hitter) could mean Miami must summon the support it received in the 8-6 win over the Mets on Friday night.
Like I mentioned in my last piece here on Marlin Maniac, right now, while the team is still in last place in the National League East, Miami is at the bottom of many major offensive categories — like runs (118), on-base percentage (.281) and slugging percentage (.312).
More from Marlins News
Smith has been a model of consistency, even with his loss in his last outing. In six of his eight starts this season – he is 3-1 this year with a 2.25 ERA and 64 strikeouts – No. 31 has struck out at least eight batters. He has a career-high 11 strikeouts this season.
Does the time away from his last start, coupled with the wins by other starters, take some of the pressure off Smith, who was as close to a sure thing as the Marlins have had this season.
Also, since the last win by the Marlins was a masterpiece by Sandy Alcantara, where he pitched a complete game, giving up only one hit in a 3-0 victory, can the team back Smith up defensively once again?
Pitching the complete game on Sunday also gave the bullpen another day of rest before the series tonight.
None of the projected starters in the batting order for the Marlins have faced Turnbull before.
Maybe the most interesting part of this series is the fact Miguel Cabrera faces the team that signed him and brought him to the Majors. Cabrera made his MLB debut in 2003 with the Marlins in the season of their last World Series Championship at the age of 20.
Cabrera played in Miami for four seasons before he was traded to the Tigers in 2007. In 2012, Cabrera made history in Detroit by winning the Triple Crown, the first player to do it since 1967. He also won the American League MVP that season.