Winning streak ends as Marlins fall to Nationals
The Miami Marlins could not maintain a lead as the bullpen could not hold the Washington Nationals bats in check in a 12-10 loss on Friday night.
The winning streak comes to an end. Usually, when a team scores 10 runs and their opponent commits four errors, there's a good chance for a victory. But the Miami Marlins allowed the Washington Nationals to fight back from a 9-8 deficit to win the first game of a four-game series, 12-10.
The loss ends a six-game winning streak by the Marlins, whose bats once again proved they had life, but the bullpen let this team down.
Miami is now 16-32 this season.
"You start off good and really all night long offensively we kept swinging the bats," manager Don Mattingly said after the team's longest winning streak since April 2016 came to an end. "Tried pretty much everything to hold 'em tonight and it seemed like everything we did, we weren't able to get those outs we needed."
This one has to hurt as the Marlins continue to show their hitting in key moments is improving. The fact the team once again was able to get out early and build a lead is also a sign of growth, but when Pablo Lopez faltered and Mattingly went to the 'pen, things fell apart.
As Harvey Valentine wrote, "Starlin Castro's two-out single gave the Marlins a 9-8 lead in the top of the eighth but Nick Anderson (1-2) walked Adam Eaton and Anthony Rendon with one out in the bottom half. Tayron Guerrero came on and Juan Soto sent a 3-1 fastball to left center for Washington's first lead of the game."
The Marlins came into the game as the hottest team in baseball, having swept both the New York Mets and Detroit Tigers. The starting pitching had shown it could dominate on the mound and players were finally having success at the plate. Friday night's game was more about the pitching becoming the Achilles heel in this game.
The two teams meet again in the second game of the four-game set. Sandy Alcantara takes the mound after his complete game shutout of the Mets last week.
On the Farm – Isan Diaz homered for the third time in as many games and Zac Gallen once again looked like he is Major League ready as the New Orleans Baby Cakes took down the Oklahoma City Dodgers, 7-4.
Gallen is now 6-1 on the year, struck out six batters and only walked one.
Injury news: The Marlins have announced they have purchased the contract of catcher Bryan Holaday and placed catcher Chad Wallach on the 10-day IL because he suffered a concussion in Tuesday's win over the Tigers.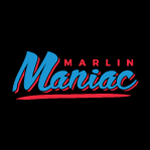 Want your voice heard? Join the Marlin Maniac team!
Write for us!
"It was a foul ball. He got hit a couple of times," manager Don Mattingly said Friday. "I know the umpire one time just went to sweep, to clean off the plate. I don't know if he hears something different back there, but I saw [Wallach] get nicked a couple of times where the head just turns. But you see it all the time. Honestly, you don't think about it until the next day when it pops up and you deal with it."