Marlins avoid series sweep by beating Nats 3-2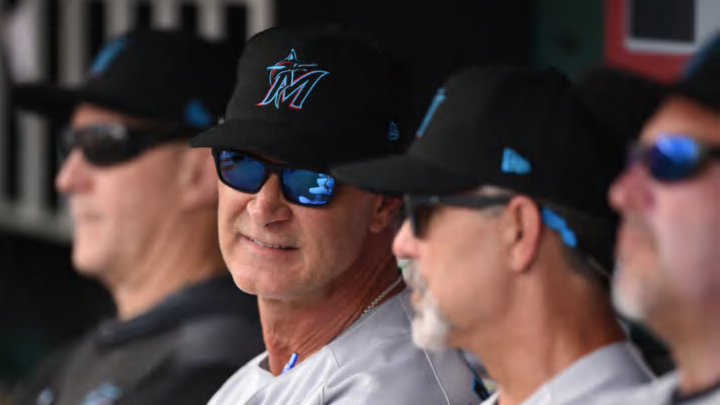 WASHINGTON, DC - MAY 27: Manager Don Mattingly #8 of the Miami Marlins looks on from the dug out during a baseball game against the Washington Nationals at Nationals Park on May 27, 2019 in Washington. DC. (Photo by Mitchell Layton/Getty Images) /
The Miami Marlins avoided being swept by the Washington Nationals in a four-game series with a 3-2 win on the road. Miami heads home to face the Giants.
Jose Urena was solid once again, winning his second game in a row as the Miami Marlins walked out of Washington with a 3-2 win over the Nationals on Monday. The win ended a three-game losing streak as the team heads home to face the San Francisco Giants.
Urena, the team's No. 1 starter, stopped the bleeding over the last three games where Pablo Lopez, Sandy Alcantara and Caleb Smith could not hold the Nationals down in key innings. Urena pitched seven strong innings while the team once again had Max Scherzer's number. It was Urena's fourth quality start.
"As Elliott Smith of MLB.com wrote, "Miami avoid a four-game sweep in Washington and allowed it to close its seven-game road trip with a 4-3 record.""
Urena needed just 80 pitches to breeze through the seven innings.He  beat Washington for the fourth straight time, which dates back to July 29 of 2018. He now has a career mark of 5-2 with a 3.36 ERA in 13 career appearances against the Nationals.
More from Marlins News
""It's a random thing. It happens," Urena said. "They are a pretty good team. That is the game sometimes. With those hitters, you have to be aggressive because they are aggressive too.""
The Marlins have gotten improved performances from Urena. After struggling to start the season, he has fit into his role as the team's No. 1 starter.
""After Cincinnati, whenever that was, that was a tough start for him," manager Don Mattingly said. "We sat down and talked about some different things we feel like he could do better, do differently. We made some small changes, nothing big with him, but he's taken to it and really since then, he's pitched really good.""
Trevor Richards, 1-5 this season with a 4.14 ERA will make the start for Miami on Tuesday night. He will be opposed by Jeff Samardzija, who is 2-3 with a 3.27 ERA for the Giants.
In other news: Per MLB.com, The Marlins made a roster move before Monday's Memorial Day series finale against the Nationals, recalling right-hander Elieser Hernandez from Triple-A New Orleans and optioning right-hander Tyler Kinley to Triple-A.
Kinley is 1-0 this season for the Marlins and has a 5.09 ERA. Hernandez has been back and forth from the minors to the parent club this season and is the current Triple-A ERA leader.
Hernandez was part of the Marlins staff last season in a part-time role. He was 2-7 with a 5.21 ERA in 32 games for the Marlins in 2018, including six starts.