Miami Marlins 2019 MLB Entry Draft: Surprising Pickups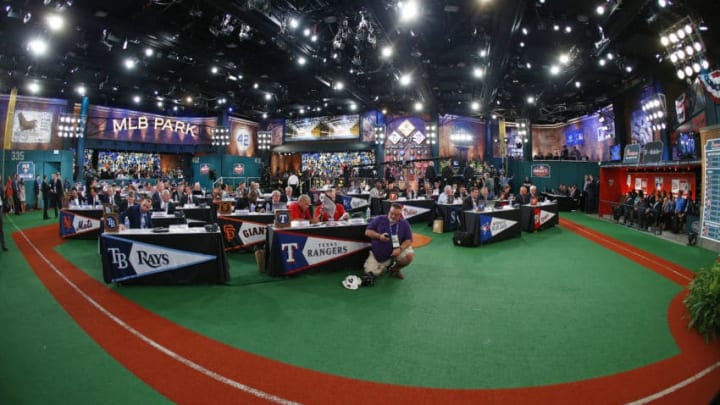 SECAUCUS, NJ - JUNE 5: Representatives from all 30 Major League Baseball teams fill Studio 42 during the MLB First-Year Player Draft at the MLB Network Studio on June 5, 2014 in Secacucus, New Jersey. (Photo by Rich Schultz/Getty Images) /
On Monday and Tuesday, the Miami Marlins stocked up with 11 high-draft round players, nine collegiate and two preps.
Then came Wednesday, when quality gives way to quantity, but what's in a number, anyway? The Miami Marlins chose another 30 players to fill their minor leagues. Look for most of them in the coming weeks with the GCL Marlins, in the rookie-level Gulf Coast League, or with the Batavia Muckdogs, in the short-season-A New York-Penn League. A few of them will start higher, either with the Clinton LumberKings in the single-A Midwest League or with the high-A Jupiter Hammerheads in the Florida State League. Crown Jewel outfielder J.J. Bleday may possibly start as high as double-A, with the Southern League's Jacksonville Jumbo Shrimp.
Also taken in the first ten rounds were outfielder Kameron Misner, shortstop Nasim Nunez, center fielders J.D. Orr and Peyton Burdick, first baseman Evan Edwards, right fielder Tevin Mitchell, and pitchers Evan Fitterer, M.D. Johnson, Bryan Hoeing, and Evan Brabrand. More on them here.
Round 11 kicked off right around noon Eastern time. With only 20 seconds between selections, and a few breaks, it ran pretty much non-stop through the next six hours.
Anthony Maldonado, Bethune-Cookman
A 6'4″ RHP, Maldonado was 18-11 with a 3.22 ERA over 41 games, mostly starts with the Wildcats. He also struck out 232 in 231 2/3 innings overall, with a three-year 1.13 WHIP.
Chris Mokma, Holland HS
Zach King, Vanderbilt
King is a 6'6″ LHP. Never much of a market for those types of players, right? Anyway, he was 0-2 with a 6.39 ERA in 31 innings this season for the Commodores. He also struck out 39 batters over that time, so the talent is there.
Easton Lucas, Pepperdine
Lucas is a 6'4″ LHP who played four seasons with the Waves. Mostly a starter, he was 5-4 with a 3.87 ERA as a senior this past season, with a 1.16 WHIP and 71 K's in 76 2/3 innings. He walked 16 over that time.
Javeon Cody, Alvin CC
Andrew Nardi, Arizona
Nardi is another 6'4″ LHP. He spent his four seasons of collegiate ball between four different programs. He played for Ventura JC, Redford, and Morepark JC before spending his final season with the Arizona Wildcats. As a senior, he was 4-5 with a 6.68 ERA and 62 K's in as many innings.
Troy Johnston, Gonzaga
A lefty-hitting outfielder, Johnston hit .327/.397/.601 in 52 games for the Bulldogs in 2019, with nine homers and 44 RBI.
Dustin Skelton, Mississippi State
Skelton is a right-handed catcher who discovered his power stroke in his final collegiate season. After hitting just one in his 81 games as a freshman and sophomore, he clubbed 10 with 46 RBI as a junior in 2019. He put together a .301/.370/.511 slashline that was miles better than he had put up previously.
Nate Rombach, Legacy HS
Thomas Rowan, UC Santa Barbara
A right-handed catcher, Rowan was another backstop who discovered a late power stroke. He hit zero in 35 games through his first two seasons, drove three deep in 2018, then powered 13 over the fence this season. He slashed .324/.402/.599 in 54 games, with 46 RBI.
Jhonny Felix, Western Oklahoma State
Codie Pavie, Loyola Marymount University
Nic Ready, Air Force
Ready played four full seasons for the Falcons as an infielder, appearing in at least 52 games in each. He totaled 50 homers and 224 RBI along with a .327/.365/.593 slashline. He also stole eight bases as a senior, in only nine tries.
Jeff Lindgren, Illinois State
Right-handed reliever Lindgren became a starter in his senior season with the Redbirds. In 2019, he was 5-4 with a 5.25 ERA and 62 whiffs in 72 frames. He also walked only 20 over that time.
Jack Strunc, Creighton
Strunc is a 6′ right-handed middle infielder, and a two-year veteran of two different colleges. He played 2015 and 2016 with Washington State, then joined the Creighton Blue Jays after taking 2017 off. As a senior, he hit .285/.332/.415.
Brandon McIlwain, California
A two-sport star at the University of California, McIlwain is a quarterback/outfielder. He only played in 20 games for the baseball team in 2019, going 16-for-62 with six extra base hits and eight RBI. The Miami Marlins drafted him for his (very) raw, but unmistakeably loud skillset.
Casey Combs, East Texas Baptist University
Lorenzo Hampton, Florida International
Hampton played two seasons with the Golden Panthers, collecting 14 homers and 56 RBI in 99 games. As a senior, he slashed .255/.315/.429.
John Baker, Ball State
A 6'2″ righty pitcher, Baker may turn out to be a steal in the 29th round. In three seasons with the Cardinals, he was 17-8 with a 2.33 ERA in 43 games, including 37 starts. He struck out 263 batters in 221 1/3 innings, with a 1.24 WHIP to his credit.
Joey Steele, University of San Francisco
Another 6'2″ right-handed pitcher, Steele came out of the bullpen for four seasons with the Dons. This year, he struck out 54 in 35 innings.
Parker Noland, Farragut HS
Josh Simpson, Columbia
In three Ivy League seasons with the Lions, Simpson went 10-10 with a 4.20 ERA. The 6′ lefty went 4-3 this year with a 3.06 ERA over 10 starts, dropping his WHIP from 1.63 to 1.41 to 1.18 in his three years with the team.
Zachary Owings, Eastern Michigan
Owings is a lefty-hitting, righty-throwing infielder and outfielder ready to plug and play anywhere on the diamond. In his 2019 campaign with the Eagles, he hit .345/.395/.527 with four jacks and 34 RBI. He also stole 30 bases over his last two seasons.
Brock Love, Alabama
A 6'2″ RHP, Love played four seasons with the Crimson Tide. This past season, he started 13 games and posted a 5-5 record with a 4.65 ERA, along with 66 K's in 60 innings.
Torin Montgomery, Lake Washington Senior HS
Julian Infante, Vanderbilt
A right-handed, 6'3″ corner infielder, Infante lettered for three seasons with the Commodores. He slashed .276/.363/.495 with 25 jacks and 115 RBI in 132 games overall.
Tyler Causey, Nation Ford HS
Tyresse Turner, Gahr HS
Evan Justice, North Carolina State
Justice is a 6'4″ left-handed reliever who never lost a game in college. He played two seasons for the Wolfpack, going 6-0 with a 4.97 ERA and 64 strikeouts in 62 innings of work. He dropped his WHIP from 1.73 as a freshman to 1.18 as a sophomore, so maybe he's not done figuring it out.
Kade Mechals, Grand Canyon University
Thanks for reading. Follow us on Twitter, like us on Facebook, and subscribe to our more-or-less daily newsletter.