Marlins: Predictions for the second half of the 2019 season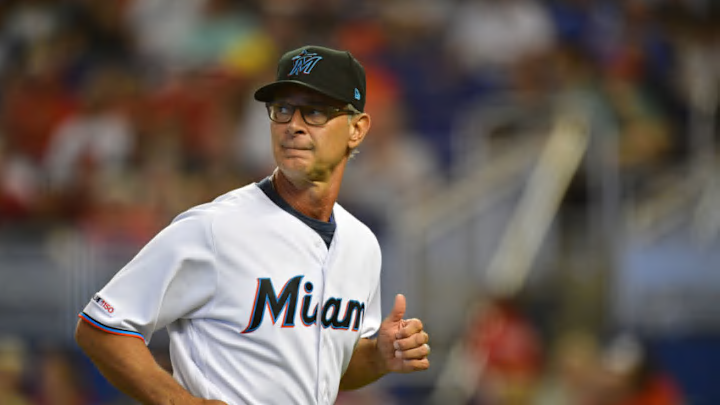 MIAMI, FL - APRIL 14: Don Mattingly #8 of the Miami Marlins heads back to the dugout after visiting the mound in the first inning against the Philadelphia Phillies at Marlins Park on April 14, 2019 in Miami, Florida. (Photo by Mark Brown/Getty Images) /
Will the Miami Marlins continue to show improvement in the second half of the 2019 Major League Baseball season? Here are a few predictions that may come true.
I am still holding out hope the Miami Marlins will win 70 to 75 games this season. I know I'm in the minority when I make this kind of prediction, but there is plenty of reason to think that this is a ball club on the rise.
The Marlins may not make the playoffs this year, but they do have a chance to play spoiler to the National League East. The only way they're going to prove themselves as a team to watch out for in 2020 and beyond is to beat up on their rivals.
That's why I think the 70 to 75 win plateau is possible, but everything has to fall into place.
This is a team that has been beaten up by injuries to it starting rotation and recently the bullpen. The front office and management must make decisions about what to do once everybody comes back healed and ready to go.
This pitching staff could look a lot different next months and it does right now.
The lineup is a mixed bag of veterans and potential. The minor league system is rebuilt and the team has done a good job in acquiring prospect talent in return for veteran stars. If you have not noticed, what the front office wanted to accomplish when it leveled the building is beginning to work.
With that said I'm calling my shot. Here are three bold predictions for the second half of the Marlins 2019 season.
Brian Anderson hits 25 home runs – Third baseman Brian Anderson has already hit 11 home runs this season. He had 11 dingers all of 2018. While he is not expected to be a 40-home run threat, one of the team's core pieces for the future has enough pop in his bat that the second half of the season could be an extension of progress he has made this year.
More from Marlins News
Anderson is a gritty everyday player who is valuable defensively at the hot corner and can play in the outfield. He is a cornerstone player the Marlins will build around.
Because there is no legitimate homerun threat in this lineup, we could see his numbers continue to increase over the course of the next two-plus months. Anderson sat out Wednesday's game against the Washington Nationals because of an elbow contusion. Hopefully, that will not impede him from the improvements he has made at the plate in recent weeks.
Starlin Castro is traded back to the New York Yankees – This isn't a new thought on my behalf. From the moment he was traded as part of the deal that sent Giancarlo Stanton to Gotham, there has been plenty of speculation that Starlin Castro would be moved.
Once the deal was completed in December 2017, the New York Mets we are believed to be interested in the veteran second baseman. It never materialized.
The Marlins are on the hook for $11 million of his salary this season, which is way too much to be paying him when there are top prospects at Triple-A New Orleans. Isan Diaz is just biding his time until the September 1 call up.
Next season, if he were to remain part of the organization, Castro would be paid $16 million. It's not cost-effective to keep him around. Plus his numbers this year have declined.
The Yankees could use him as a valuable bench piece, and New York is where he ultimately would you preferred to return, in my opinion. I'm not sure what the Yankees would offer in the way of prospects for the 29-year-old, but at least one player in return with maybe some cash considerations would be enough for the Marlins front office to make this deal.
A new deal for Don Mattingly – Don Mattingly deserves to another deal in Miami.
The manager hasn't had a winning record in South Florida. Yes, there are times when his managerial decisions have been questioned. He had a talented lineup in Year 1 and 2 and the pitching staff could not keep pace. But looking at the landscape of this team, the former Yankees great deserves a chance to see this mission through.
CEO Derek Jeter was non-committal at the end of last season when asked if the Marlins skipper would get a new deal. After tearing this team down to the foundation and building it back up, level by level, the franchise is starting to look like it will be competitive in the next two seasons. Mattingly has been outspoken about the blueprint and has spoken the gospel.
The Marlins have young players who will be stars, in time. It would be a shame to see Mattingly start the process and help the initial game plan but not be around to see the end results.