Miami Marlins Game Capper: Caleb Smith Roasts Sox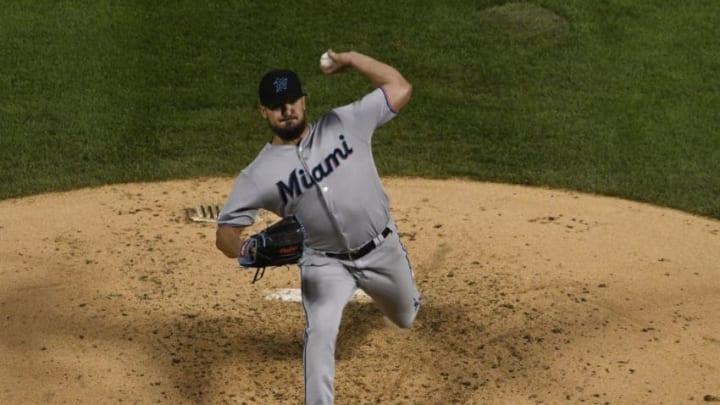 CHICAGO, ILLINOIS - JULY 23: Caleb Smith #31 of the Miami Marlins pitches against the Chicago White Sox during the sixth inning at Guaranteed Rate Field on July 23, 2019 in Chicago, Illinois. (Photo by David Banks/Getty Images) /
Caleb Smith maintained a perfect game until there were two outs in the sixth against the White Sox.
Caleb Smith collected nine strikeouts in total, including five in a row between the fifth and sixth innings before Chicago got to him. Smith walked a pair with two outs in the sixth before they touched him for their first hit, a Jon Jay single into right field, scoring Adam Engel. With 57-of-93 over the plate, Smith collected his sixth victory of the season against four losses for the Miami Marlins, lowering his ERA to 3.30.
In the absence of a true "ace," Smith has put his best foot forward and seemingly claimed the mantle as his own. Although he currently falls nine innings short of the major league leaderboard, as such things are measured. Only Sandy Alcantara and Trevor Richards qualify from the Marlins.
Smith is carrying a .193 opposing batting average, a 1.02 WHIP, and has struck out 110 in 90 innings. He's got a 3.67 K/BB rate, and ranks third on the team with 16 starts. His six wins lead the club. His Achilles heel seems to be the long-ball. He's surrendered 16 already, or one per start, or one every 5.625 innings. Nevertheless, his 3.30 ERA ranks second on the team, behind only Hawaiian wunderkind Jordan Yamamoto's 2.61.
Miami Marlins 37th Win of 2019
The Miami Marlins finished with only six hits in their victory over Chicago, but that was three times as many as Smith, Nick Anderson, and Jarlin Garcia allowed. Anderson came in to pitch the eighth, and didn't allow any baserunners while collecting a pair of strikeouts. Anderson plated 11-of-15 pitches and lowered his ERA to 4.14. Garcia came in to pitch a perfect ninth, got 9-of-11 over the plate, and lowered his ERA to 2.67 over 30 1/3 innings this season.
MIAMI, FLORIDA – JULY 13: Harold Ramirez #47 of the Miami Marlins hits a RBI double in the fourth inning against the New York Mets at Marlins Park on July 13, 2019 in Miami, Florida. (Photo by Michael Reaves/Getty Images) /
On the offensive side of the game, the Miami Marlins had certain players struggle with the White Sox starter, Dylan Covey (1-6, 6.04). Garrett Cooper and Jorge Alfaro each finished 0-for-4 with three strikeouts, earning respective hat tricks.
Starlin Castro continued to push his average northward with a two-for-four day, and is now hitting .248 for the season in the last push to the trading deadline. If nothing else, Castro's push has prospectively increased his trade value for the Miami Marlins.
The fourth inning had all the magic the Marlins would need to convert a victory. Brian Anderson opened with a double, his 23rd of the season. Cooper moved Anderson to third with his only non-strikeout plate appearance of the day, a 6-3 groundout. Neil Walker drove Anderson home with a single, and Castro doubled Walker home for a 2-0 lead.
More from Marlins News
After an Alfaro whiff, Curtis Granderson went deep for the ninth time this season, scoring Walker and again doubling the Marlin lead. Harold Ramirez added a solo shot in the fifth, his fifth of his rookie campaign.
Smith's start was perfect through his 17th out, but quickly came unraveled when he allowed three consecutive baserunners. In the seventh, he allowed A.J. Reed the second and final White Sox hit of the day, a single.
The Miami Marlins and the Chicago White Sox will close out their series tonight with a "rubber" game, starting at 8:10 PM EDT. Zac Gallen (0-2, 3.63) will make his sixth attempt at his first major league victory opposite Reynaldo Lopez (5-8, 5.76).
Thanks for reading. Subscribe to our newsletter, published daily, and give us a follow on Twitter and a like on Facebook.