Marlins: There is plenty to like about the team's starting pitchers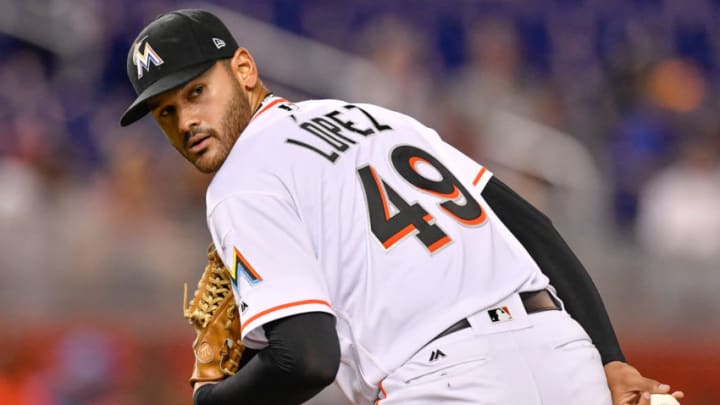 MIAMI, FL - AUGUST 07: Pablo Lopez #49 of the Miami Marlins looks back at first base in the second inning against the St. Louis Cardinals at Marlins Park on August 7, 2018 in Miami, Florida. (Photo by Mark Brown/Getty Images) /
Will the Marlins starting rotation finally take the next step in becoming a force in the National League this coming season?
You have to like the fact that the Miami Marlins young pitching staff doesn't lack for confidence. After a year of growing pains and changes in the rotation because of injuries, these young men will attempt to continue to prove they are the future of this organization in 2020.
When asked about the upcoming season and how five the challenges from last season to the beginning of their second stanza, I told a friend of mind I am optimistic because this should be a better team of hitters for Don Mattingly's squad.
If not, this could be another long season where no one is safe if it ends poorly.
If you know anything about my thoughts regarding the Marlins young arms, I have remarked often how I think it can be dominant in time – with the balance of the 1979 Orioles staff as an example and the craftiness of the mid-1990's Atlanta Braves as a reminder. Do I think there is a Jim Palmer or Greg Maddux in this group? Not yet. Time will tell.
More from Marlins News
"As Christina De Nicola of MLB.com wrote this week, "The Marlins believe 2020 will be a happy new year, with optimism in the next stage of their rebuild stemming from the starting pitching depth.""
As Jordan Yamamoto and Pablo Lopez continue to grow, they will be asked to step forward, probably as the team's third and fourth starters. Both Sandy Alcantara and Caleb Smith will lead the rotation after starting 2019 in the back of the line. Now, each has All-Star potential. Lopez, who spent part of 2019 on the injured list, hopes to finally put together a full season of success.
""Lopez, who has spent time on the injured list in each of his first two Major League seasons due to right shoulder strains, has been using the offseason to condition," De Nicola writes. "As of now, his throwing program consists of playing catch and long tossing in order to get back the feel of his arm action. He'll begin bullpen sessions a few weeks before Spring Training.""
It's all about the process. Lopez was dominant in the minors two seasons before making the move to the Majors before the All-Star break. But he cannot find a rhythm without having it halted. Getting the youngster to the point where he is healthy means Mattingly and pitching coach Mel Stottlemyre Jr. can count on a trio of arms to cause problems for opposing hitters.
""Hundred percent [healthy] this year that's really the main goal," Lopez said. "Obviously, I want to stay healthy. We want to see results and be there for each other and win ballgames. I have to stay healthy to help my team as much as I can.""
Yamamoto was in Jacksonville before he was called up to The Show. He was a dominant strikeout pitcher who came onto the scene in Miami and won his first four contests, then came back to earth and had some injury issues of his own. This season is about taking what he learned last season and further applying it on the mound.
""We have a lot of young starters, but at the end of the day, we showed spurts this past year in 2019 that we can hang with the best," Yamamoto said. "At the end of the day, we have the talent. We have what it takes to be there. Now, we've just got to get the experience as Major Leaguers and come together to be the best we can be to be together.""
Of those four starters, where Smith is the "veteran" of the group, there are only 130 Major League starts between them. While they all may develop into a strong nucleus, it may still be another season before fans and the front office sees how dominant they can be as a unit.