Marlins: Could Cervelli Win the Starter Spot Over Alfaro?
Francisco Cervelli is joining the Miami Marlins at the one position that doesn't seem to elicit any questions.
Jorge Alfaro is the unquestioned Miami Marlins starter behind the plate. The capable backstop caught 16-of-49 runners trying to steal in 2019, and registered a .989 fielding percentage in 973 innings at backstop.
On the offensive side of the ball, Alfaro hit a career-high 18 home runs with 57 RBI along with a .262/.312/.425 slashline. His lone and glaring weakness is his inability to lay off borderline pitches, or any pitches really. He drew walks in only 4.7 percent of his plate appearances last season, while striking out 33.1 percent of the time. These figures are more-or-less right in line with his career figures of 4.5 and 34.2 percent, respectively. On his side is the fact that he's still only 26-years-old, with a lot of room to improve his plate approach.
Francisco Cervelli, who will turn 34 before the start of the 2020 season, joins the Marlins on a one-year, $2 million deal to back up Alfaro. The deal displaced incumbent backup Chad Wallach, 28, who is now likely to start the year with the Wichita Wind Surge, in the Triple-A Pacific Coast League. Wallach has pronounced offensive shortcomings, but is a better defensive catcher than Alfaro or Cervelli.
Cervelli and Alfaro are both very slightly below league average at pitch framing, at 47.4 and 47.2 percent "shadow strikes," respectively. The league average, by the way, is 48.4 percent. Wallach rates at 49.5 percent.
Despite a down offensive year that saw Cervelli hit just .213 in 48 contests between the Pittsburgh Pirates and the Atlanta Braves, He's a career .269/.358/.380 hitter over a dozen big-league seasons. His walk percentage is over double that of Alfaro's, at 10.3, and he strikes out far less, just 19.2 percent of the time. This bat-on-ball ability may lead to added opportunities for Cervelli, who may very well supplant Alfaro as the Marlins starting catcher at some point. Our own David Levin touched on the fact that Alfaro needs to do better earlier this month.
Throwing out runners has been a recent Cervelli strong point. Well below the league average for most of his career, he's thrown out 31-of-84 over the past two seasons, a 37 percent kill-rate that is more than 10 percent above league average. Alfaro's career figures are closer to the National League average, but he's also trending upwards, with last season's 33 percent kill-rate.
All of that to say this: it's kind of a wash between Alfaro and Cervelli defensively, but Cervelli has a better plate approach and Alfaro has more raw power. What will the Marlins managerial team deem more important?
Leave a comment if you disagree with anything I'm saying. If you have more to say, consider writing for Marlin Maniac. Get started by following the link below.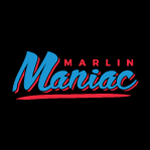 Want your voice heard? Join the Marlin Maniac team!
Write for us!