Three Marlins Prospects Who Could Make a Difference in 2020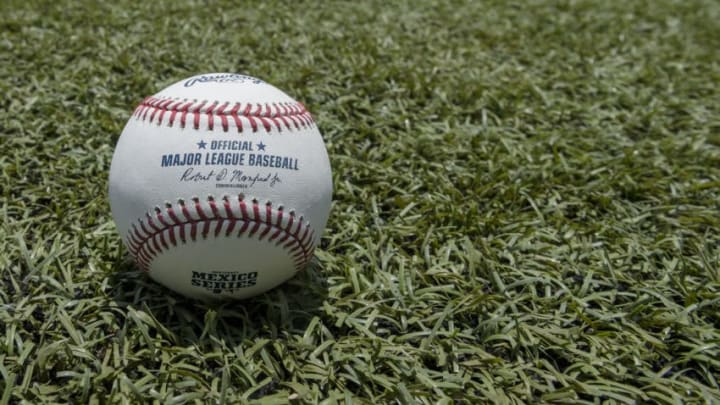 MONTERREY, MEXICO - MAY 06: Detail of the official game ball prior the MLB game between the San Diego Padres and the Los Angeles Dodgers at Estadio de Beisbol Monterrey on May 6, 2018 in Monterrey, Mexico. (Photo by Azael Rodriguez/Getty Images) /
SEATTLE, WA – APRIL 19: Starting pitcher Edinson Volquez #36 of the Miami Marlins. (Photo by Stephen Brashear/Getty Images) /
The Miami Marlins have finished with a losing record in nine consecutive seasons.
In only six of their 27 major league seasons have the Marlins finished above .500, and they have never won 57 percent of their games. Hopefully in 2020, the tide will turn, as the 57-105 campaign they turned in last season was the second worst in franchise history.
At 1990-2314, the Marlins have the second-worst all-time win-loss percentage in major league baseball. Clocking in with a .462 winning percentage, only the San Diego Padres, at .461 (3747-4389), have it worse. For contrasts sake, the New York Yankees have gone 10378-7840, winning 57 percent of their games all-time. The San Francisco Giants, who lead the National League all-time, are 11165-9687 for a .535 winning percentage. Just for conversation's sake, the California-Anaheim-Los Angeles Angels of Anaheim are the .500-est team right now, at 4709-4719.
At a collected 19.7 fWAR prediction, per Fangraphs, the Marlins are projected to go 68-94 in 2020. I've already went on at length as to how Miami could turn that prediction on its head and go for as many as 85 wins. An 85-77 campaign would be the fourth best in team history, behind only their two World Series Championship seasons and the 2009 club, which finished 87-75. If you haven't already, please click the link above for an explanation as to how the Marlins are destined to fight for a playoff spot this season. But I digress.
It's clear that I disagree with some of Fangraphs projections. I mean really? Brian Anderson at 2.3 WAR? Jonathan Villar at 1.8? Miguel Rojas at 1.7? Jon Berti and Garrett Cooper at 0.2? Corey Dickerson at 1.1? Sandy Alcantara at 1.2? Jordan Yamamoto at 1.0? In addition to these obvious miscalculations, which prospects has Fangraphs not accounted for in their counting of future Marlins output? Here's a few that could surprise sooner rather than later.