Three Marlins Prospects Who Could Make a Difference in 2020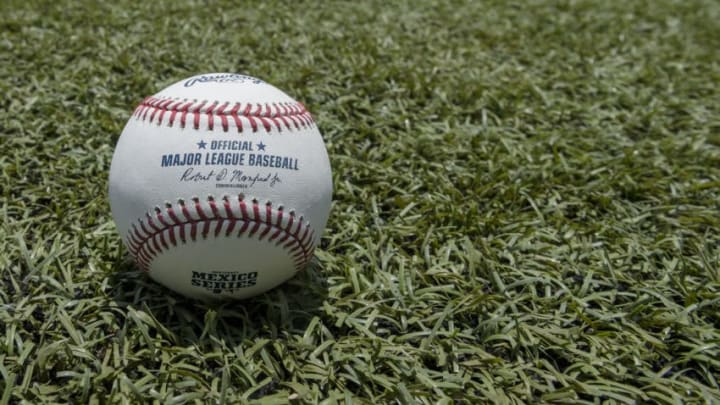 MONTERREY, MEXICO - MAY 06: Detail of the official game ball prior the MLB game between the San Diego Padres and the Los Angeles Dodgers at Estadio de Beisbol Monterrey on May 6, 2018 in Monterrey, Mexico. (Photo by Azael Rodriguez/Getty Images) /
https://twitter.com/Marlins/status/1188987361834799104
Drafted in the 17th round in 2018 out of CSU-East Bay, Alex Vesia is making everyone who passed on him 16 or more times scratch their heads.
In four seasons of Division I NCAA play, Vesia was 24-17 with a 3.01 ERA and 249 K's in 313 2/3 innings pitched, mostly as a starter. Since getting drafted, however, the Marlins have employed him as a starter only once versus 51 appearances out of the pen.
A meteoric rise through the minor leagues has been topped off with a major league camp invitation to begin his 2020 season in earnest. A six-foot-two left hander from Alpine, CA, the 23-year-old motorbike enthusiast has crushed the competition at every level he's been at for the Marlins.
Between five levels of minor league ball over two seasons, Vesia has posted an 11-2 record with a 1.62 ERA and 138 K's in 100 innings. He's walked 26 and allowed 1.010 WHIP.
But the thing about it is, he's been substantially better at each level as he's worked his way through the system. To wit:
GCL Marlins: 8 2/3 IP, 0.00 ERA, three walks, seven K's, 0.808 WHIP
Batavia Muckdogs: 24 2/3 IP, 1.82 ERA, four walks, 31 K's, 1.257 WHIP
Clinton LumberKings: 31 2/3 IP, 2.56 ERA, 17 walks, 51 K's, 1.295 WHIP
Jupiter Hammerheads: 18 2/3 IP, 1.93 ERA, one walk, 24 K's, 0.696 WHIP
Jacksonville Jumbo Shrimp: 16 1/3 IP, 0.00 ERA, one walk, 25 K's, 0.551 WHIP
To reiterate a fact I quoted in an earlier article, Vesia has walked two and struck out 49 over his last 35 innings, holding opponents to a 0.629 WHIP at the two highest levels of competition that he's yet faced. He struck out 13.5 batters per nine innings in 2019 between those two and Clinton, and may play well enough in Spring Training to make the cut out of camp. Vesia has future closer written all over him.