Three Marlins Prospects Who Could Make a Difference in 2020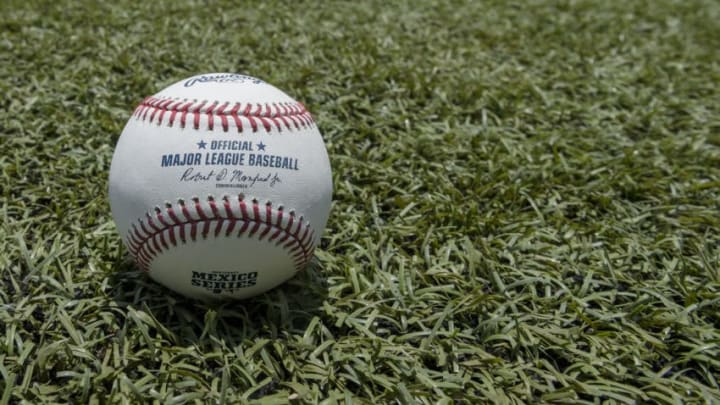 MONTERREY, MEXICO - MAY 06: Detail of the official game ball prior the MLB game between the San Diego Padres and the Los Angeles Dodgers at Estadio de Beisbol Monterrey on May 6, 2018 in Monterrey, Mexico. (Photo by Azael Rodriguez/Getty Images) /
https://twitter.com/RNavarroCabeza/status/1207992243199631361
First baseman Lewin Diaz, who is currently Miami's 12th ranked prospect according to MLB Pipeline, could also make some noise during Spring Training. As noted above, the Santiago, DR native is coming off a Rookie of the Year campaign in the Dominican Republic Winter League.
As I stated in an earlier piece, the Marlins have a possible three-way battle at first base coming into 2020, with Diaz, Garrett Cooper, and Jesus Aguilar. Cooper has proven utility, who can also play right field and hit around .280 with pop. Diaz is the only lefty in the bunch, leaving 2018 National League All Star Aguilar as the one with something to prove.
Diaz would pair nicely in a platoon situation at first base with either Aguilar or Cooper, should management plan to lean that way this season. Although Diaz only hit .200 in 31 games at Jacksonville after his acquisition last season, he also displayed his much ballyhooed power stroke with eight moon shots to arrive at an OPS of .740.
More from Marlins Prospects
Diaz, who came over from the Minnesota Twins with for Sergio Romo and Chris Vallimont, is already marked as the Marlins first baseman of the future. In his six seasons of minor league ball, the six-four lefty hitter has hit .268 with 63 homers and 263 RBI. Another selling point for Diaz is his relatively low whiff-rate, with a career mark of 17.6 percent. Although he doesn't walk much, with a mark of just 6.6 percent, Diaz can be counted on to put the ball in play.
"Even when Diaz struggled, he kept his strikeout rate low and never really tried to sell out for power. – MLB Pipeline"
Diaz is already on the Marlins 40-man roster, and is in a position to join the Marlins with a decent spring showing.
What do you think? Who are some prospects that are poised to break out in 2020? Let me know below. Thanks for reading.