Does the 2020 MLB season really matter now that games will be played?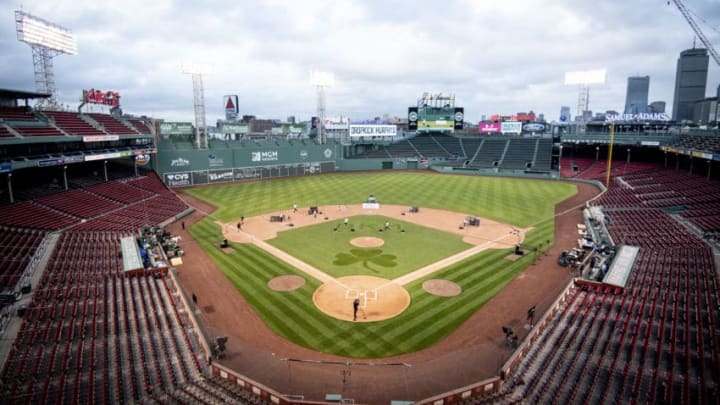 BOSTON, MA - MAY 29: A general view as the Dropkick Murphys perform during the Streaming Outta Fenway performance with no live audience as the Major League Baseball season is postponed due to the COVID-19 pandemic at Fenway Park on May 29, 2020 in Boston, Massachusetts. (Photo by Maddie Malhotra/Boston Red Sox/Getty Images) /
With the decision to play a 60-game season now on the minds of MLB fans, how tarnished is the 2020 season going to be?
Are you going to watch the Miami Marlins during a 60-game MLB season?
It's the question I was confronted with by one of my closest friends this morning (Tuesday) as I turned on my computer to start my workday.
While no one could have predicted a world Pandemic to change the complexity of everyday events and how people across the country struggle to not only stay safe but to find normalcy in their lives, Major League Baseball was supposed to be the magic elixir to rally the masses, changing perspectives from the "new norm" to the "constant bandage" that has helped this country heal in times of need.
More from Marlin Maniac
Sixty games of baseball, in what appears to be a forced setting, is better than nothing, However, it does not take away the fact how the owners and the players got to this point leaves a stain on America's Pastime.
As reported by CBS Sports, ESPN, and other news outlets including our staff here at FanSided.com, what we are left here is the ultimate failure to communicate. It's hard to choose sides in this pickle when millions of dollars are lost on a game while families are struggling with simple needs. In the end, I guess I just wanted to feel loved by the sport that has given me such joy for more than 40 years of my lifetime.
""Today, the Major League Baseball Players Association informed us that they have rejected the agreement framework developed by Commissioner [Rob] Manfred and [MLBPA executive director] Tony Clark. Needless to say, we are disappointed by this development," MLB said in a statement."In view of this rejection, the MLB Clubs have unanimously voted to proceed with the 2020 season under the terms of the March 26th agreement.""
As I continued to read what Scott Garbarini of Sporting News wrote, the evidence made everything clear. This is a baseball season that is being forced to begin and could impact this game more so than the 1994 MLB strike.
For myself and others, this is such a hard pill to swallow. Baseball is one of the purest forms of art, played in churches all over the United States for fans who see its beauty on a diamond. I'm saddened while writing this opinion piece because I'm a realist – and I also know this could affect the 2021 season as well for the players, owners, and fans.
Now, with a mandate in place and the return of the game in July, how do we as fans prepare? Will statistics really mean that much? What if there is a record that is challenged – like hitting .400 for the season? Does it count? Should it matter?
And with the changes made to this season and in 2021, has the game I love feeling a bit tarnished as if it will never be the same to me as it was just one season ago?
I am fortunate to be able to cover baseball for a living. I am also blessed to be able to watch minor league baseball in a city where the Miami Marlins are grooming the next generation of stars. That ballpark is closed. The locks are on the doors. There is a still air around downtown. Nothing is happening.
The silence speaks louder than any statement that could be made to excite the baseball masses.
I told my friend I would watch baseball because it is part of what I do. I also insanely miss it. Maybe that's my solace in all of this like MLB is an addiction I cannot rid myself of.
In a few weeks, games will mean something. Standings will have caught my attention and life might seem a bit more normal. Or at least I hope so. If a team like the Miami Marlins or Detroit Tigers or any other team that has been a basement dweller recently makes a splash and heads to the playoffs, it will add more intrigue for fans.
But it will not cure what has happened the past few weeks with a tug-o-war that never should have happened. I love the game too much to ignore it, but honestly, I am upset with how this came to be. Still, like others, I anticipate the day games mean something and highlights become part of my everyday focus.
I didn't realize how much I missed baseball until it wasn't a part of my summer. It's like the big brother you want to lean on for comfort. MLB must now do that again for me in a different manner. Not because it owes me anything. But because this season, however odd it will be, needs to be that comforter which makes fans whole again.
In the meantime, while we wait to see players on the field, the question of why this had to happen in the first place still leaves a lingering feeling that baseball is being force-fed to us. Personally, I don't know how to feel about that.