Can Miguel Rojas Get the Miami Marlins Back on Track?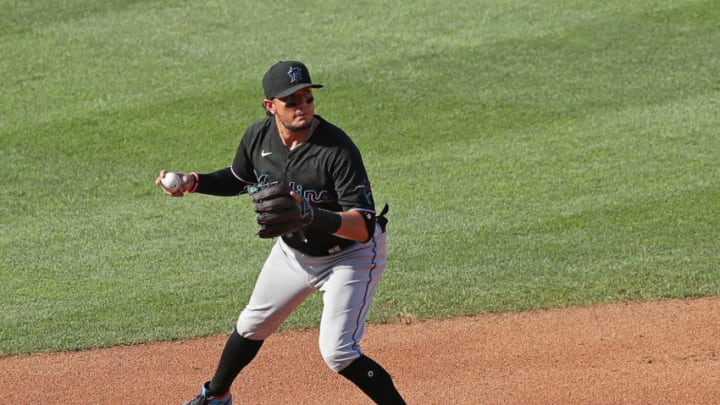 PHILADELPHIA, PA - JULY 25: Miguel Rojas #19 of the Miami Marlins plays shortstop during a game against the Philadelphia Phillies at Citizens Bank Park on July 25, 2020 in Philadelphia, Pennsylvania. The 2020 season had been postponed since March due to the COVID-19 pandemic. The Phillies won 7-1.(Photo by Hunter Martin/Getty Images) /
Miguel Rojas has been reinstated from the COVID-19 list after missing all but the first three games of the season.
The Miami Marlins were 2-1 when Rojas and a lot of other players were moved to the list. After a week off, the club was 7-1. Since then, they've gone 2-8. Can Miguel Rojas help right the ship?
Since that roster move transpired, it has come to light that one New York Mets player and one coach have tested positive for the virus. The Miami Marlins contest that was to be played tonight versus these Mets has been postponed.
Rojas started out the season seven-for-10 over those first three games, with a double, a triple, a homer, five RBI, a walk, one stolen base in one attempt, and only one strikeout. His contributions over that short sample size has left him tied for the team lead in WAR, with a mark of 0.7. Pablo Lopez and Brian Anderson also share the lead.
This is Rojas' sixth season with the Marlins. Although he has more-or-less stayed below the league average OPS+ (set at 100), he did finish the 2017 campaign with a mark of 103. Then he found a power stroke.
PHILADELPHIA, PA – JULY 26: Miguel Rojas #19 of the Miami Marlins. (Photo by Mitchell Leff/Getty Images) /
More from Marlins News
Rojas had one homer in each of his first four major league seasons, including his 2014 major league debut with the Los Angeles Dodgers. In 2018, he slapped 11, and added another five in 2019. Once counted on as a do-anything utility infielder, he's now tagged as the Miami Marlins starting shortstop for the foreseeable future.
With a few of the Mets testing positive for the virus, it's possible that some of the "survivors" who have kept the team running while a lot of the starters went down will now test positive themselves. It's a shame that the Marlins have already seen 18 players sidelined due to the illness. Now another round of testing is called for to get a handle on a possible resurgence.
Although it's unfortunate that some may test positive, at least the first group of players to fall have mostly made it through. Keep the Miami Marlins (and the New York Mets) in your thoughts and prayers. Thanks for reading.