Miami Marlins: 3 Players that need to "Break-Out" for the Marlins in 2021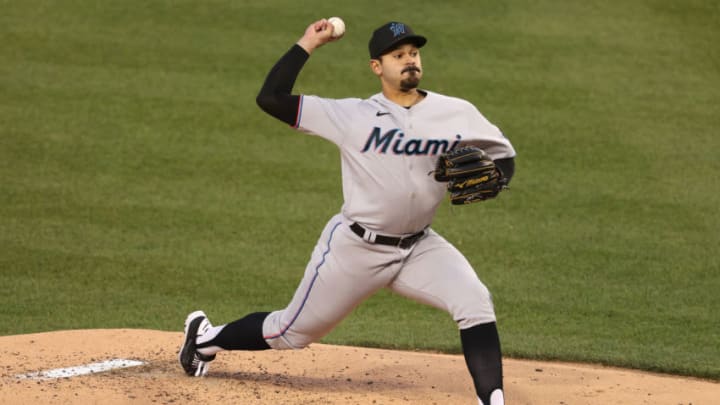 WASHINGTON, DC - APRIL 30: Starting pitcher Pablo Lopez #49 of the Miami Marlins works the third inning against the Washington Nationals at Nationals Park on April 30, 2021 in Washington, DC. (Photo by Patrick Smith/Getty Images) /
First Baseman Lewin Diaz of the Miami Marlins (Photo by Adam Hunger/Getty Images) /
3. Lewin Diaz – Miami Marlins 1B
The Miami Marlins #5 prospect according to MLB Pipeline, the Miami Marlins need a big year from Lewin Diaz.
Diaz is regarded by some as the Marlins first baseman of the future, and is on-the-verge of scratching the big leagues full time.
Diaz, a career .268 hitter in the minor leagues, made his highly-anticipated MLB debut during the 2020 season, but didn't necessarily have the most success. Only appearing in 14 games, Diaz went 6/39 from the plate while also driving in 3 runs, but struck-out in twelve of those at-bats.
The 24-year old first baseman didn't necessarily "light-it-up" in spring training either, only hitting .227 in 22 at-bats. Diaz, because of this slow start, started this season in the minor leagues.
With MLB veteran Jesus Aguilar set at 1B for the Marlins currently, Diaz has the talent and potential to challenge Aguilar for playing time eventually. This year will be an important one because of this, not only for Diaz, but for the Marlins as well.
If Diaz struggles to take the next-step combined with Aguilar continuing to impress in the major leagues, Miami may opt-to prefer Aguilar long-term. If this is the case, Diaz could become a trade candidate for the Marlins to land an instant-impact star player.
The talent is obviously there for Diaz. Now knocking on the door of the big leagues full-time, it's clear why 2021 is a massive season for Diaz and the Marlins both.
If Diaz develops and succeeds in the big-leagues, Miami has its first-baseman of the future.
If not, combined with continued success from Aguilar, you could possibly let the trade talks begin down in South Beach.
While the Marlins will still have a talented roster even if these three under-perform this season, break-out season's from Lopez, Rogers, and Diaz could help put the Fish back in the Postseason once again. Not only would this benefit Miami this season, but could also help provide clarity of the future positional outlook of the Marlins for years to come.