Miami Marlins: Why an Underrated Offseason Pickup is paying Dividends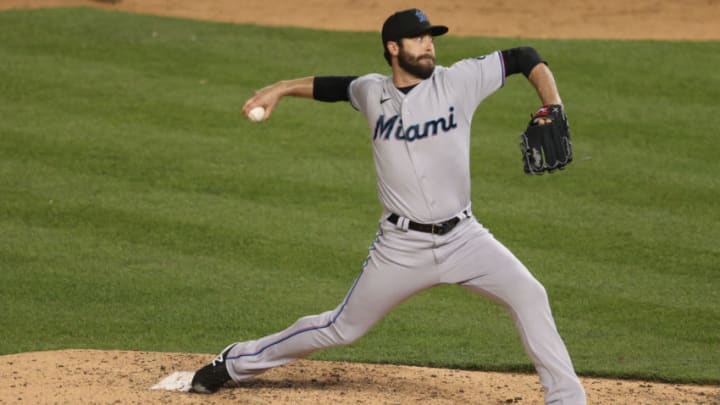 WASHINGTON, DC - APRIL 30: Dylan Floro #36 of the Miami Marlins pitcher against the Washington Nationals at Nationals Park on April 30, 2021 in Washington, DC. (Photo by Patrick Smith/Getty Images) /
The Miami Marlins bullpen has certainly seen its fair share of both ups and downs so far during the 2021 season. However, what if I were to tell you though that a trade for a relief pitcher has turned out to be one of the most underrated pickups of the offseason for this bullpen.
The Miami Marlins made a trade back on February 12 with the Los Angeles Dodgers to acquire RP Dylan Floro for pitchers Alex Vesia and Kyle Hurt.
Floro, a 30-year old relief pitcher now in year six of his MLB career, was coming off a phenomenal 2020 season with the Dodgers where he had a 2.59 ERA in 25 relief appearances for the World Series champs. While he certainly put up eye-popping numbers during the 2020 season, Floro has essentially been doing this for his whole career.
While he struggled during his first two MLB seasons with two different teams, Floro's combined career ERA currently sits at 3.11. He has been impressive since the 2018 season, and is doing that once again now for the Marlins in 2021.
Miami Marlins RP Dylan Floro has been outstanding so far this season.
Floro had been a righty-righty specialist the past few seasons with the Dodgers, but obviously you have the 3-batter minimum rule now in baseball. If you think that has slowed Floro down this season with Miami, think again.
Floro has appeared in 18 games so far out of the Miami bullpen sporting a 2-1 record with a 1.08 ERA and .900 WHIP. While those numbers are already very impressive, it gets even better if you look a little deeper.
Floro is currently on track to put up career-lows in ERA, WHIP, and a by-far career-low 5.9 H/9. As mentioned previously, Floro has appeared in 18 games so far this season. To put things in even clearer perspective, Floro has only allowed two earned runs in those 18 games.
Those two earned runs came in a mid-April matchup against the Braves in a blown-save. What has happened since then? Ten consecutive scoreless outings for the 30-year old right-handed reliever. Ten.
While the Miami Marlins still display a few other very good relievers, it's hard to imagine what this bullpen would look like so far without Floro. If he continues this success throughout the season, the acquisition via trade for Floro in the offseason may end up being one of the most impactful moves of the 2021 MLB offseason.