Miami Marlins: Could another trade with the Atlanta Braves happen?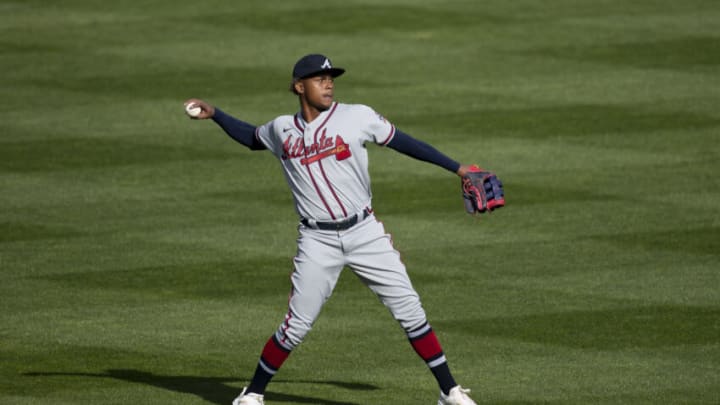 PHILADELPHIA, PA - APRIL 03: Cristian Pache #25 of the Atlanta Braves in action against the Philadelphia Phillies at Citizens Bank Park on April 3, 2021 in Philadelphia, Pennsylvania. The Phillies defeated the Braves 4-0. (Photo by Mitchell Leff/Getty Images) /
While trading within the division in baseball is not seen often between teams, it is something that actually occurred between the Miami Marlins and the eventual World Series champion Atlanta Braves just last season.
Flipping outfielder Adam Duvall to his former club at the trade deadline, the Marlins in return received catcher Alex Jackson in the move between division rivals, a move that most people doubted would actually happen, even after the Braves reportedly had interest in the veteran outfielder.
As you know, that deal did happen. Could the two teams make another trade in the near future?
Could the Miami Marlins trade with the Atlanta Braves again?
When looking for potential trade targets from the Braves, there was a potential option earlier this offseason in catcher William Contreras, but a move is now highly-unlikely after the Marlins acquired Jacob Stallings. However, there are still two clear options who would make sense, both of which would solve Miami's long-term question mark in centerfield – Cristian Pache or Drew Waters.
Both rated within Atlanta's Top 3 prospects overall, both Pache and Waters are internal options for Atlanta to occupy centerfield for the Braves in 2022, joining an already potentially crowded outfield mix including names such as Acuna, Duvall, and Ozuna, as well as free agents who could return such as Joc Pederson, Eddie Rosario, and World Series MVP Jorge Soler.
With arguably no starting centerfielder set, either of Pache or Waters could potentially start for Atlanta in 2022, barring an offseason addition or trade. However, if Atlanta does make a move for a starter in center this offseason, should the Marlins consider trading for one of the two major league ready top prospects?
As for which of the two would most-likely be available, Waters is the arguable answer. Atlanta's former second round pick from the 2017 MLB Draft, the 23-year-old has yet to debut in the major leagues, but could receive the call at any moment in 2022.
Atlanta's No. 3 prospect, Waters is coming off a down 2021 in which he posted a .710 OPS with 11 home runs in Triple-A, but has some of the best pure tools in the Braves system, which would allow him to play any outfield position, but likely not center in Atlanta with Pache there.
Why you ask? Pache is arguably the top defensive outfield prospect in all of baseball, with truly elite tools defensively (Arm: 70, Field: 80 according to MLB Pipeline). However, Atlanta's top prospect has struggled offensively during his limited time in the major leagues, posting a combined .366 OPS across 24 games.
With both Pache and Waters set to breakout offensively at any moment, either of the two would be an intriguing trade option if made available, both of whom have the tools to excel defensively at loanDepot Park.
As you likely know however, trading for a player/prospect the caliber of Pache or Waters would certainly come with a high price, with Atlanta most-likely wanting an experienced starter in return such as Pablo Lopez. Now no, Miami would likely not trade Lopez for either of the two, but it is an example of what the high-price for Pache or Waters would likely be.
While it's not often that trades occur between divisional rivals, it happened last season between the Miami Marlins and Atlanta Braves. Could it happen again?