Can Baseball survive in a Football world?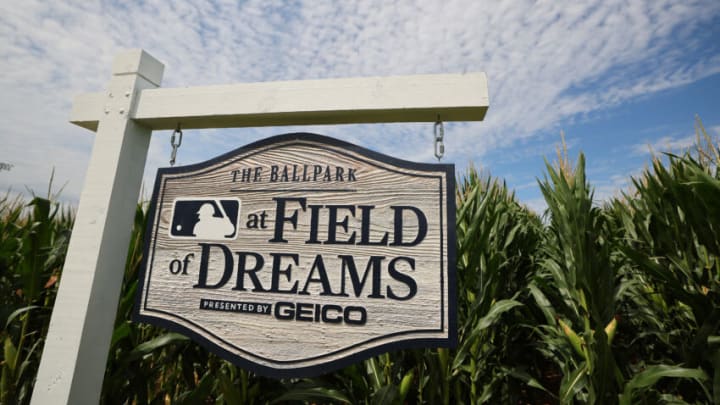 DYERSVILLE, IOWA - AUGUST 11: A general view of signage prior to the game between the Cincinnati Reds and the Chicago Cubs at Field of Dreams on August 11, 2022 in Dyersville, Iowa. (Photo by Michael Reaves/Getty Images) /
Can baseball truly survive in an American sports market dominated by the NFL? The answer to this question is a resounding yes.  Not only does baseball have its foundations deeply rooted in American popular culture, its mystique and nostalgia should be on display for American sports fans to fall in love with our national pastime once again. There's no reason and plenty of room in our sports palate to love baseball and still enjoy football and other sports as well.  Baseball, however, needs to stake its market claim and keep baseball a part of our sports culture for generations to come.
Baseball needs to do a better job of marketing its product to fans.
The statement above goes without saying-baseball needs to do a much better job of marketing its product to American sports fans.  We have many choices of sports in this country and with the proliferation of cable television combined with streaming services, we can watch just about anything we want, any time we want to.  Major League Baseball needs to wake up and realize that the NFL has pushed baseball out of the way in the hearts and imaginations of American sports fans.  Why isn't the Field of Dreams game an annual tradition?  At last word, there won't be a game next year-why?
I understand construction of a complex is going on but playing at least one game a year in a
DYERSVILLE, IOWA – AUGUST 11: Aristides Aquino #44 of the Cincinnati Reds looks on during the fifth inning of the game against the Chicago Cubs at Field of Dreams on August 11, 2022 in Dyersville, Iowa. (Photo by Michael Reaves/Getty Images) /
DYERSVILLE, IOWA – AUGUST 11: Former baseball player Ken Griffey Jr. (L) and his father Ken Griffey Sr. take the field before the game between the Chicago Cubs and the Cincinnati Reds at Field of Dreams on August 11, 2022 in Dyersville, Iowa. (Photo by Michael Reaves/Getty Images) /
cornfield in Iowa has really re-sparked the love of baseball in its former glory in many fans.  I too love the concept of playing an MLB game in a makeshift stadium with players wearing old time uniforms-what can be any better than that in the heat of the summer? The MLB main office should be demanding an annual game and allow a rotation of teams to come and play in Iowa each summer as a rite of passage for baseball players and fans alike.  "if you build, they will come" is the mantra of the movie Field of Dreams.  Well, if you play it, they will watch it too!
The World Series is the granddaddy of American sports championships-make it relevant again.
The World Series has been played since 1903 and was even played during the darkest days of World War II as a morale boost for the American people.  The only time it wasn't played was during the horrendous strike year in 1994 and since that year the World Series has lost its luster.  Why?  The World Series is literally that -the best baseball teams on the planet vying for a World Championship title.  The national television networks such as Fox seem to understand that the World Series should be programmed around whatever college and NFL games are being played at the end of October and early November since this year's Series looks to go until around November 5th or so.  There is so much tradition and pageantry surrounding the Fall Classic; make this baseball best of seven Series the most important thing on television around Halloween.
Fox has decided not to start the World Series on a Thursday so it won't compete with Thursday Night Football and a Friday night start late in October is a perfect setting for this quintessential fall sporting event.  Be even smarter and schedule the World Series around the football games so that these games are the only meaningful games on television those nights.  Yes, college football plays on Saturdays but most of the biggest games are played during the day time so the World Series can steal the show on a marquee Saturday night.  Play the World Series on Tuesday, Wednesday, Friday and Saturday night and you have more of a captive audience.  Try and compete with football and you are creating incessant channel flippers who won't devote their entire attention to anything.
Win the social media battle with other sports.
Americans love their social media – in fact, we may love it too much but that shouldn't stop Major League Baseball from doing a better job of marketing the MLB on social media platforms.  Let's face it, if you're under the age of about 40, you probably spend a lot of your free time watching videos, chatting with others or just browsing social media.  What if there was more baseball available on these platforms?  This sport desperately needs to do a much better job of developing something like Daily Web Gems (let's take ESPN's concept and put it on social media outlets daily!) to allow even casual observers to see the great plays and drama unfolding with each day's games.
Make top baseball personalities more like household names; I would bet that the majority of Americans have heard of Tom Brady but how many know who Aaron Judge is?  What about other baseball players?  The MLB rosters are smaller than the NFL and casual sports observers should be able to identify the most popular baseball players.  If you win the social media battle, you endear baseball back into the hearts of younger generations who didn't grow up with this sport as their national pastime.  Lose the social media battle, lose relevancy.